If you haven't heard of MooGoo, here's a little background to start us all off with. MooGoo is an Australian skin care company that makes a range of natural produced designed for people with skin or scalp problems. It is for people wanting a natural alternative to chemicals.
It is one of the pricier brands for baby skincare but their products are worth taking a second look at.
Daniel is at 9 months now and every other day, we have been introducing new foods to him. This has been quite a nerve wrecking journey so far. We have discovered how easily he breaks into rashes on his lower back, neck and chest, arms and cheeks if the new food we introduced doesn't sit well with him.
It must be so uncomfortable for him! So far, the following foods have been giving him rashes: papaya, corn and cow's milk (if I drink it and breastfeed). I wish I knew why! :(
How we test food is to keep a diary of the things we feed him and then find the source of the problem by eliminating it one by one.
I tried the MooGoo Soothing MSM Cream (here) recently and it worked wonders for Daniel's rashes. It is one of their top sellers (S$33.90/120g). This cream has MSM (Organic Sulfur) added to it. MSM is a well known ingredient for its skin calming properties. The cream uses Sweet Almond Oil which is one of the best moisturising oils for irritated skin due to its essential fatty acid profile.
It smells like a mixture of coconut and almonds and applies like a dream. We use this twice a day, right after his mid-day bath and his night time wipe down. We have been using it really often these days because of his recent flare ups. Thank goodness these rashes disappear rather quickly (within 2 days) after applying the MooGoo Soothing MSM Cream. What a life saver!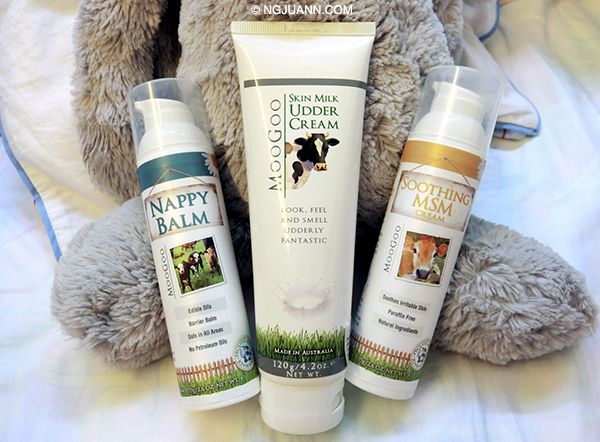 Daniel is also using 2 other products from MooGoo now. The MooGoo Skin Milk Udder Cream and the Nappy Balm. I really like that all their products use ONLY natural ingredients, are paraffin free, and are not tested on animals.
This is my first time trying out the MooGoo range of products so I really couldn't NOT try the original udder cream that started the whole range. All over their website and product packaging are pictures of cows and more cows. However, their products aren't "milk-based".
See MooGoo Skin Milk Udder Cream was inspired by a cream that was typically used to repair the skin on a cow's udders to keep them in good condition for milking. I'm not sure how cool that sounds but what's important is that MooGoo is very well loved by so many customers and it works for me too.
The Skin Milk Udder Cream (here) is the lightest of all their creams. It seems of almonds and is easily absorbed into the skin. I also appreciate that the cream is non greasy because in our hot Singapore weather, and an active baby, the last I need is to struggle with putting on his clothes because it's stuck on to his body.
Daniel's little knees are always a little dry, so we make sure to put extra cream on them. He's definitely a baby who needs extra TLC for his skin!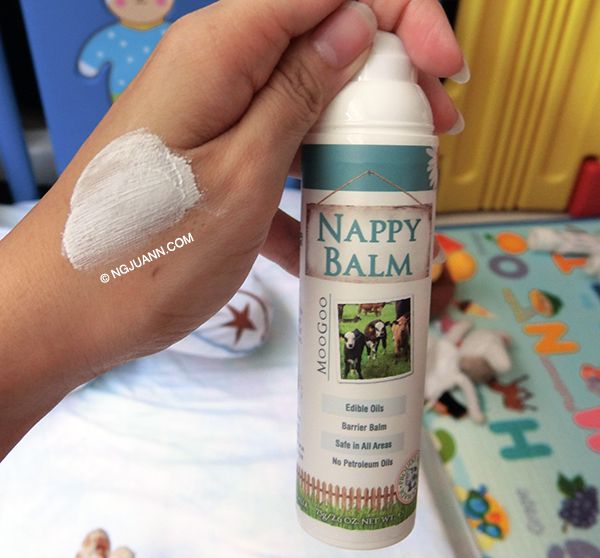 The MooGoo Nappy Balm (here) has a slightly thinner texture than other nappy balms out there in the market and it is also uniquely in a pump dispenser bottle. Daniel doesn't break out in nappy rashes often but his bottom does get slightly red from time to time. I feel quite good putting MooGoo Nappy Balm onto Daniel, knowing that its made of very good and natural ingredients. We've been using it for a week and so far, all's good :) I just wish it had a nicer fragrance to it cos it smells a little like plasticine.
I never hesitate looking for great products for Daniel because a happy baby makes a happy me. :)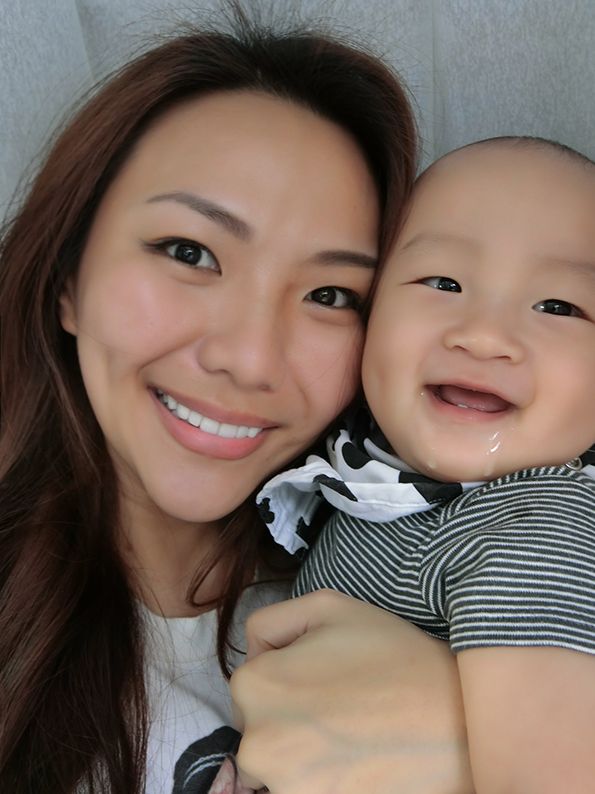 Besides these 3 products, there are many other products from MooGoo which are available. Check them all out here: MooGoo Singapore Facebook Page | Website
Overall, MooGoo is a great brand for people who are susceptible to skin problems like Eczema, Psoriasis, Nappy Rash, Cradle Cap, Milia, Fungal/Yeast Based Condition, Acne, Dry Skin, Dandruff, Rashes and other skin problems. Thank goodness that of all of the above, Daniel currently only needs me to treat him for Rashes and Dry Skin!
MooGoo can be purchased online at www.poshbaby.sg and selected outlets of Isetan, Spring Maternity, and Kiddy Palace.