We hardly ever go to East Coast Park because it's super far away for us but in the recent weeks leading up to the birth of our second child, we decided to spend more time going out and doing things with my firstborn, Daniel. We wanted to enjoy what's left of our 3 person family.
For starters, we started searching for things like "kids friendly restaurants in Singapore", "where to bring the kids for brunch", "brunch with children", before we found Sunrise Bistro & Bar. We were sucked in by their indoor bouncy castles for kids every weekend and everyday during school holidays. I mean, free bouncy castles? COUNT US IN.
Daniel lovessss bouncy castles! Despite the heat, we decided that bringing his scooter to the beach would be a fun session for him too. So we did just that.
Big Splash @ East Coast
Sunrise Bistro & Bar is located at Big Splash – super easy to find.
Helmed by its co-founder and chef, Vincent Teng, Sunrise Bistro & Bar offers casual French fare with a fine blend of Asian flavors.
It started to rain heavily so we spent a lot of time indoors. Daniel had heaps of innocent fun at the bouncy castle. I liked that it was indoors so that it was air-conditioned and all.
There was even a cupcake-decoration corner for kids who order a kids meal to enjoy. Daniel wouldn't be able to handle all the containers of decorations so I placed it all neatly onto a plate for him. I can't believe he actually enjoyed it. I mean, he is a boy + he is very active all the time! To see him sit quietly for 10mins decorating his cupcake was quite a pleasant sight. So proud of him! :)
They have a special kid's menu (S$15++) which comes with a starter, a main and a dessert. We ordered the Beef Bolognaise Pasta for Daniel and boy oh boy did he enjoy it. He even asked for seconds after he was done. He also kept looking cutely at the bouncy castle and back at his food, as if he couldn't decide which he should do first. *rolls eyes*
Such luxury plating for a kid!!
We had lovely food too!
The husband had a Ribeye Steak (S$26) which was done exactly to his liking and I had a serving of the Ricotta Pan Cake (S$12). I loved the maple syrup and the toasted almond flakes that came with it. <3
Our favourite dish has to be their signature Salted Egg Yolk Custard Molten Chocolate Cake (S$10), a warm chocolate cake with oozing salted egg yolk custard. A scoop of vanilla ice cream accompanies the cake. The ice cream wasn't much to shout about but the fondant was sooooo good!!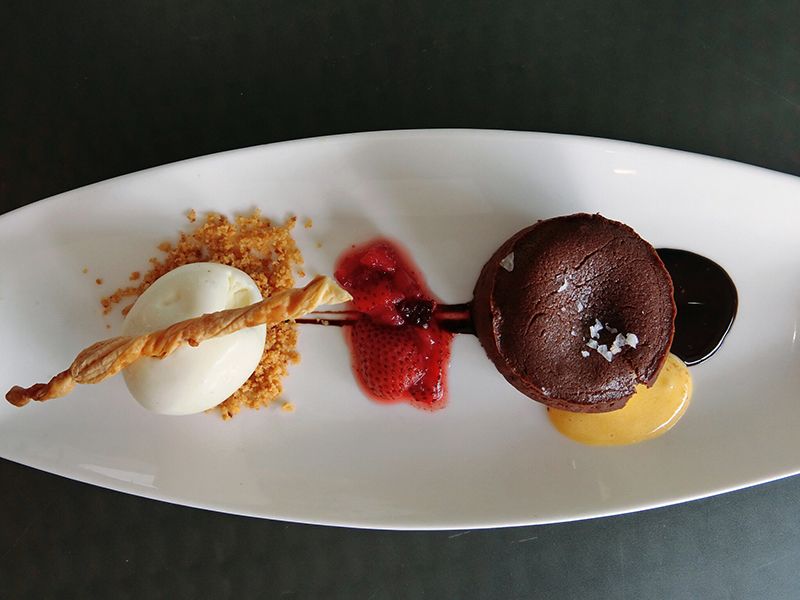 Bring your kids here for some fun, then head over next door to kids indoor playground, Kadoodle, or to the beach for some sun, sand, and sea! :)
**
Address: 902 East Coast Parkway, #01-05 Big Splash Blk B, Singapore 449874
Free Parking: 12am to 5pm on weekdays
Website: www.sunrisebistrobar.com