SINGAPORE – It was an exciting week this week with Fide Fashion Weeks running from 28 Dec to 2 Dec.
One of the bestest showcase had to be the one and only Julien Fournié's Haute Couture Fall Winter 2013 Collection in Asia at the Singapore French Couture Week 2012.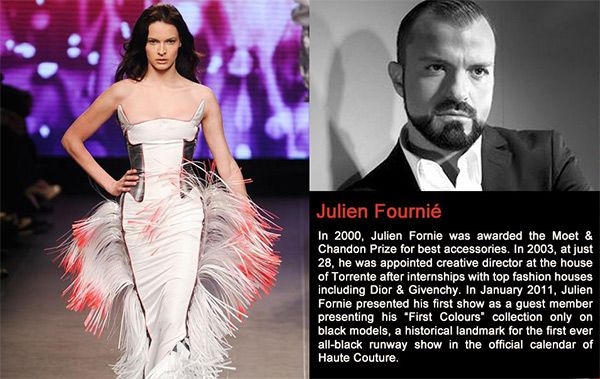 It was a breathtaking showcase of colours!
You can check out the full collection here but here are some of my favourites!

Image credits to Fide Fashion Week.
I super love the skirts of each of these dress.
The one on the left is so pretty and doll-like.
The one in the middle was handmade by Julien in his own bathtub! I love the brilliant ombré effect of green to purple. Who knew these colours combined would be so gorgeous!
And on the right most, totally loving how the form fitting top leads to attention seeking ruffles in the skirting.

Image credits to Fide Fashion Week.
Julien Fournié is also the only designer who had a crew of all Asian models (all of them with great energy) for his showcase. It was a refreshing change from the usual caucasian models! Seeing Julien's designs inspired me to introduce brighter colours into my wardrobe. And the ombré effects in outfits are simply drop dead gorgeous and brings life to an outfit any time!
**
Special thanks to Samsung Mobile Singapore who gave me this special opportunity to not only be part of the Singapore French Couture Week 2012, but also, to have an up close and personal session with the awesome Julien! Omg?!
That's Julien on the right and Jean Paul (the right-hand man of Julien) on the left!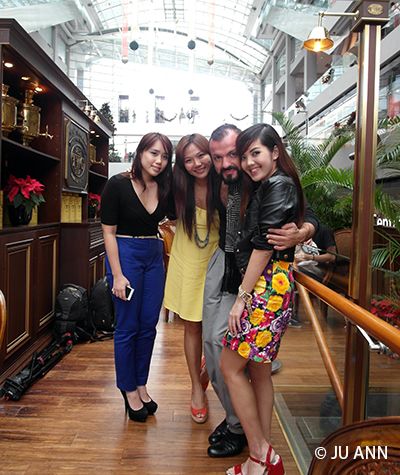 He was super friendly and with as much flaire and awesomeness as you would expect a fashion designer to be but without the obnoxiousness!
Super love this photo of us!
To see more photos of my meetup with the brilliant Julien Fournié, click here.
**
We were also given a special backstage tour by Celine from Fide Fashion Weeks!
Gorgeous gorgeous runway!
Backstage where the models and designers wait.
And here's a wall pinned with all the model photos for the hair stylists to note!
Had so much fun talking to Julien about his inspirations and what excites him! Special thanks to Samsung Mobile Singapore – a key sponsor at the Fide Fashion Weeks 2012 in Singapore.
**
Julien Fournié Official Facebook Page
Fide Fashion Week Official Facebook Page