I'm super excited about being appointed as Fisher-Price Play IQ Ambassador Mum and I can't wait to share with you all that knowledge that I have gained.
See Fisher-Price is not just the leading maker of toys for babies and young children, they do put a lot of thought and research into the development of toys that help children become more well-rounded individuals.
Play IQ is a Fisher-Price concept and platform that helps parents assess a child's level of development in three key pillars:
Physical – strength, coordination and confidence
Cognitive – natural curiosity, love of learning, intelligence and creativity
Social & Emotional – sharing, listening and leading
Did you know that play is the most effective method for children to develop their brain in meaningful ways that will lay the foundation for learning as they grow. In fact, there is no other time in our children's lives when their brain will develop more rapidly or when they will take on as much learning as during the first five years of life.
Therefore it is important that we have to be aware of how we interact with them to ensure they are developing physically, cognitively and emotionally.
Understanding your child's developmental stages can help parents navigate the complex world of baby toys and pick the right toys that suits your child.
Deborah Weber, Head of Infant Research at Fisher-Price, explained the idea of Play IQ: "Play IQ is more than just letting babies play. It is really about realising that babies develop at their own pace and achieve milestones at different times. It's also a time of discovery for parents, especially first-time moms and dads; by understanding a child's Play IQ, they have a clearer roadmap of what to expect. Play IQ aids in what babies need to learn, at what specific stage of development they are at, and how to best support them to achieve their fullest potential."
She further highlighted that: "toys are the catalyst for impactful, interactive learning and can bring about meaningful opportunities at every age. Children learn and remember best when playing with toys, as these are attractive, colourful, exciting, and engaging for them. To help parents choose the right toys for their children, Fisher-Price toys are now marked with identity symbols to represent the three key pillars of child development: physical, cognitive and social & emotional."
Fisher-Price has also recently launched their new Play IQ digital tool to help parents like you and I determine your child's individual Play IQ. Do check out the tool to understand your child better!
Instilling the joy of learning through play not only helps a child grow but also enhances parent-child relationship. My baby Daniel is "The Little Legend", demonstrating his Physical Play IQ. He's at the stage where he is developing strength, confidence and coordination. His little muscles are growing stronger everyday already!
The Play IQ test also suggested these toys for Daniel to play at his developmental stage: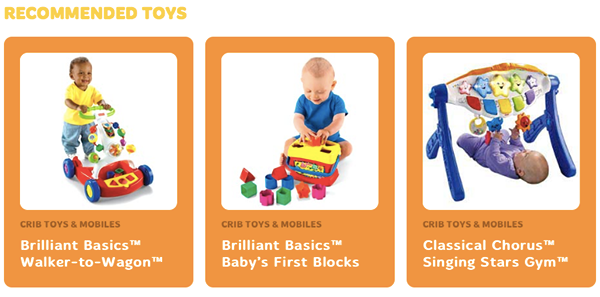 And I can see where Fisher-Price is coming from. Daniel is walking now, albeit unsteadily. And he loves playing with toys that fits into small holes, absolutely cannot resist dangling items!
Well, stay tuned to my blog here because I'll be sharing lots of educational videos, play tips, reviews on toys and also a giveaway! :) Follow me on Facebook to stay updated :)
**