I'm pregnant second time around and I'm pretty much set that this will be the last pregnancy. And that's why I'm totally going out all and dressing the bump up! I remembered having a fruitful shopping experience with Maternity Exchange during my last pregnancy so I decided to go check out their BUY or RENT maternity and nursing wear concept.
Yes, you heard it, you can browse their wide range of collection online or in-store and choose to either buy OR RENT them.
RENT? That totally makes sense, especially if I am determined to look as good as I can even when I'm pregnant! I super love the fact that they carry a lot of international & local designer labels which are very good quality and made of very good materials – this of course means buying them is expensive!
I wish I had checked them out earlier cos the I would be able to rent clothes that give me the best fit and style at every stage of my pregnancy!
If you should swing by their shop (Marina Square #03-108) or check out their website, here are some of the brands you can check out:
Here's how affordable their renting packages are:
Baby Steps – $179 for 4 pcs ($45/pc)
Basic Instincts – $329 for 8 pcs ($41/pc)
All Essentials – $439 for 12 pcs ($37/pc)
Indulge Your Bulge – $659 for 20 pcs ($33/pc)
I last went to their Marina Square outlet and here are my loots!!
I found this exceptionally flattering maternity dress (even though it has horizontally stripped patterns across) and could NOT resist. This is a super comfortable piece (great for weekend brunches, and even dress down Fridays in the office) and I am wearing it like once a week :X.
I even brought it to a recent maternity shoot I did and here's sharing the shot I took!!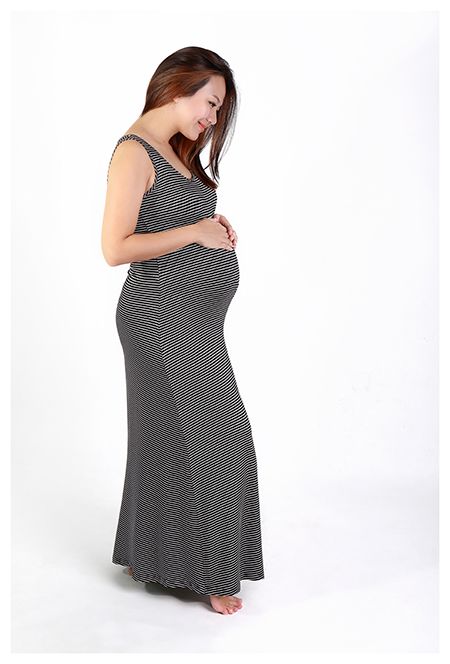 This dress is from Pea In A Pod. :) I would totally wear this even after pregnancy! So for those of you who always wonder where to buy or rent maternity / nursing clothes in Singapore, now you know!
Besides clothing, they also have a wide array of stuff you'll need during your pregnancy. I needed a new bra because my current ones were getting a little too tight (and mine are all underwire bras) and to my absolute delight, their inner wear can be tried on and I got the perfect bra that I needed.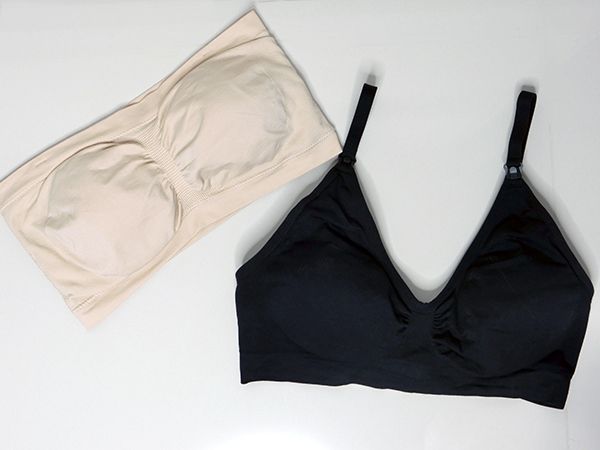 Introducing… the Anne Matthew Nursing Bra (in Black) – it is super comfortable and I would totally get more of this – it'll definitely take me through my breastfeeding journey too! Good thing it comes in many colours cos I am so getting more of these.
And the seamless strapless convertible bra tube (in Beige) that features an inside frame which allows you to nurse too – hey hey got to make my money worth the while k!
Don't need to look any further for comfortable nursing bra anymore, and don't take my word for it too, just head to Maternity Exchange at Marina Square and try it out yourself.
I love that the stuff I got can last me not just during my pregnancy but beyond too! :)
And my last loot which many are very very fond of – the JuJuBe Be Right Back Backpack! I have been using the previous JuJuBe Diaper Bag for 2 years and it's still functioning SUPER well. We go everywhere with it.
Related: What's in my diaper bag
I've tried heaps of diaper bags and really, nothing is as lasting, comfortable or thoughtful as the JuJuBe Diaper Bag. Some had style, some had function. Very few had both, and even the most functional brands missed out on the latest innovations in textile technology.
When I saw the JuJuBe range came in backpack-style as well, I had to, I just had to get it. All of JuJuBe's standard features are included (a pinch of sass, a dash of technology and a huge dollop of cool style!).
Here's what I love about this:
Padded back panel with breathable mesh for added comfort … as well as some signature Ju-Ju-Be stitching for that extra flair.
Ergonomically curved and padded shoulder straps.
Quick grab handle.
Cell phone pocket.
Mommy pocket with diapers and wipes pocket on the front.
2 exterior insulated bottle pockets with Thinsulate™ by 3M™. Keep it warm or cold!
Top storage pocket for your MP3 player, sunglasses or digital camera.
Memory foam changing pad included in the back panel zipper compartment and with an 11.5-inch opening, it is also suitable for tablets, small laptops, magazines, etc.
Teflon® so stains don't stick.
AgION® Antimicrobial Linings – kills germs, mold, mildew, fungus, bacteria, and other bad stuff.
Metal hardware – none of those cheap plastic stuff here.
Light-Colored Linings – you can actually see what's inside; it's not just a big black hole in there.
Machine washable and air dry
Stay tuned to my Instagram (@ngjuann) / Facebook and my blog – I'm definitely gonne share a more in-depth review of this product!
**
Maternity Exchange is the first and only maternity and nursing wear boutique in Singapore to offer the buy or rent concept. Currently they carry the largest collection of international and local designer labels here. They also carry a wide collection of quirky gifts and accessories for parents and babies too. Check out their website and online store at www.maternityexchange.sg or Facebook page at www.facebook.com/maternity.exchange to do a little window shopping and find out more about MX!
**
Items are kindly sponsored with no obligation on my part to review these products in a positive light or to review them at all. Opinions here are of my own, and based on my own consumption experiences. No monetary compensation was received.