HUNGRY HEROES must be one of the cafes with the most interesting decor in Singapore. If you're a fan of action heroes and have a taste for unique interior design, you'll want to check out Hungry Heroes.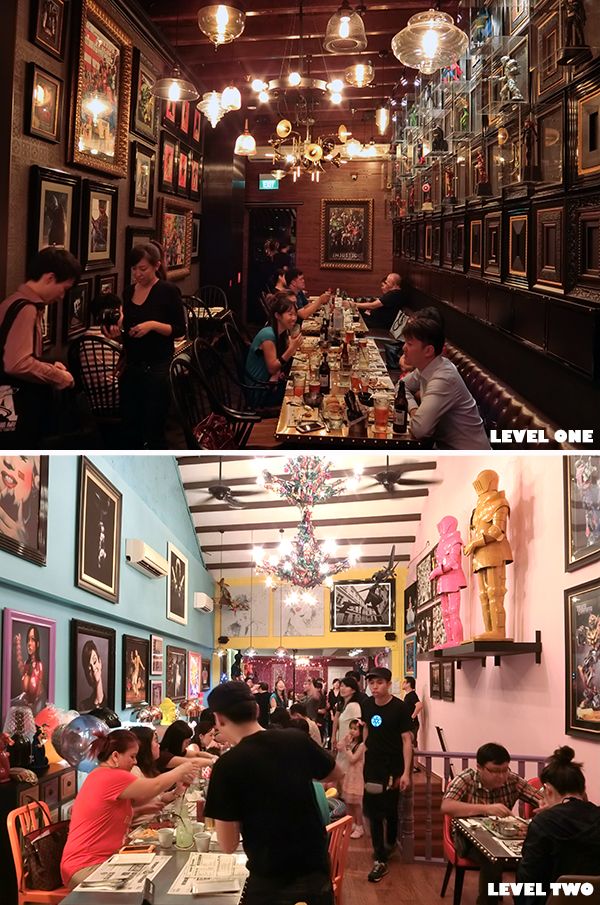 More than 100 artworks of popular culture framed on multi-layered ornate frames are mounted on sleek dark panelled wooden walls. Countless original superhero memorabilia collected from the last two decades are displayed along with colourful high gloss ornaments and a playful faux weapon cabinet showcase. Restored gold aviator tables contrast beautifully with lush Chesterfield sofas and bar stools of various styles.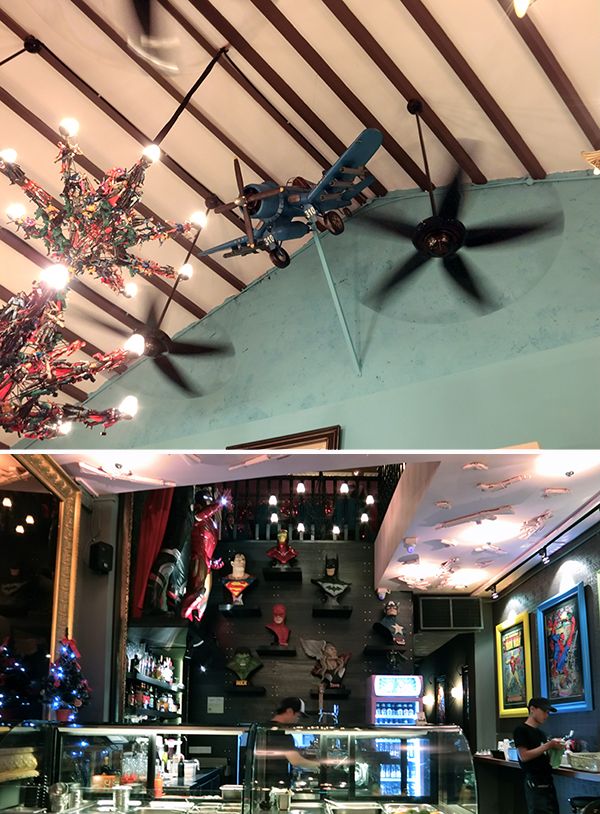 Stunning chandeliers reminiscent of medieval wrought iron ceiling lights share the airspace with many other contemporary and industrial lighting. A gigantic 3 meter long baroque mirror artwork is another highlight of the space.
A 5 mins short walk away from Farrer Park MRT, this new haunt is definitely a great place for dinner with friends.
For a hearty communal feast, the "Hungry Heroes Platters" such as the "Nice to Meat You" ($56+ per platter, serves 3 to 4 guests, see above) and the "Steak-out" ($108+ per platter, serves 5 to 6, see below) are perfect for vibrant get-togethers. Each platter features a combination of meats from the deli, and are served with fries or roasted potatoes, caramelised onion, and sautéed corn.
The portions are huge too!
I loved the sirloin, the sausage trio, and the beef stew! I've already made a mental note to order that the next time I return. To be honest the other items we tried aren't anything special but what's definitely worth a come back for would be the atmosphere, the great value you get for the money you pay and the decor.
All-in-all, the combined experience of seating amidst the regal statues and pop-culture art accompanied by incredibly well-made dishes is something I already look forward to re-living.
A tight craft beer program is carefully curated to pair with the robust meat menu. During my dinner I had the Nordic Berries Fruit Cider which I enjoyed very much!
**
Nice to Meat You (serves 3-4) – $56+
Half rack pork ribs, 200g sirloin, 250g de-boned chicken leg, pulled pork
The Steak-out (serves 5-6) $108+
200g ribeye, full rack pork ribs, pulled pork, sausage trio, 250g de-boned chicken leg, beef stew, veal osso bucco
Truffle Mash Potato $5+
*Note: All platters are served with fries/roasted potatoes, caramelised onion, bread and sauteed corn.
** Pls note that all prices come with 7% GST only, with no service charge.
Hungry already? Check out the menu here!
**
Hungry Heroes
33 Tessensohn Road, Singapore 217656 (5 mins walk from Farrer Park MRT)
Average Bill: $40++ per person (including drinks)
Opening Hours: 4pm – 12am (Mon to Fri)
11am – 12am (Sat)
11am – 11pm (Sun)
Website | Facebook