Huang Ah Ma, The Oriental Spa Chamber is Mary Chia's first Oriental wellness spa concept, which has Eastern-inspired massage treatments designed for both men and women. The spa is located at Porcelain Hotel in the heart of the Chinatown heritage area, only a 2 minute walk from Chinatown Mrt (Pagoda street exit).
I was invited to try out Singapore's first ever late night Imperial Night Beauty Secret Spa and Facial Treatment.
This unique imperial Night Beauty Secret Spa & Facial promises to help one relax fully after a long day, help with insomnia and aid in promoting good health at the same time. The routine centres around the introduction of special herb blends and crafted massage techniques to enhance cell recovery and rejuvenation, which works best at night.
Here's are some highlights of the treatment!
The late night spa and facial routine starts with a foot spa, inspired by a simple but powerful therapy, the bath routine of the Yao Tribe women.
The herb-infused routine, said to be most effective after 7pm, started with a 10-minute Yao Yu foot soak.
Back Massage to help relax the body
My therapist was really skilled. She hit all the right places!! Made me wish this was a 1 hour back massage instead.
Artemisia Herbs (艾草) Detox and Ear Candling
I have actually NEVER tried ear candling before. Artemisia herbs are placed on the navel, helping you to relax. This step will also detox and clear the meridian. When your body pores are open and the 12 meridian blockages are cleared, harmful materials can be expelled. The multitude of benefits includes skin nourishment, relief of itching as well as prevention and curing of skin and gynaecological diseases. The step will also improve the micro-circulation system, digestion and alleviate problems like fatigue and muscle pain.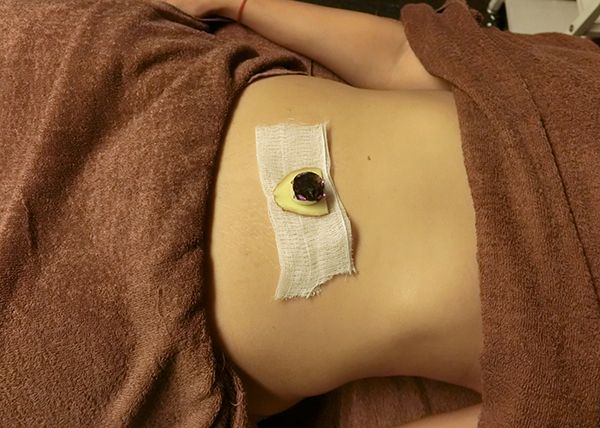 There was no pain, just a very intriguing feeling as your navel gets warmed up. And I did feel kinda nervous having candles on my navel and in my ear all at the same time! I guess you should just trust the therapist as I did, after the first 5 mins of nervousness.
The therapist also said that my tummy is very "cold", effects of me walking around at home bare feet and going to bed without socks. Because my tummy is very "cold", fats tend to gather there. Omgggggg….
Musical Ball Face Massage
She used a moving steel ball to produce a soft tinkling sound.
The therapist will execute four strokes in this order, for the ultimate relaxation:
1) Effleurage stroke – A soothing, stroking movement used at the beginning of the facial to encourage lymphatic return
2) Drainage stroke – Lymphatic stimulation and drainage
3) Soothing stroke – Relax the muscle and skin
4) Shiatsu pressure – Reduce the pressure stress and mental stress
This was really relaxing and I, who thought I wouldn't fall asleep, fell asleep during this step! Besides the body care that I highlighted in this post, the Imperial Night Beauty Secret Spa & Facial also cleanses your face and puts on a soothing mask for you. The "facial" part of this treatment is rather downplayed and underwhelming though.
Nevertheless, I have never quite experienced any relaxation treatment as multi-faceted as this Imperial Night Beauty Secret Spa & Facial by Huang Ah Ma. It had so many elements to it, making every moment quite interesting. I slept really well when I got home that night. :)
**
This 90-minute "Imperial Night Beauty Secret Spa & Facial" treatment, has an introductory price of $88 (UP: $188). It is offered at Huang Ah Ma starting 4 Feburary 2015 onwards.
This treatment is recommended to be experienced from 7pm onwards as the regime is put together to suit one's skin condition and temperature at night.
**
Huang Ah Ma
The Oriental Spa Chamber
50 Mosque Street, Singapore 059528
Contact: 6536 1661
Opening hours
11am to 3am
*Free parking after 10pm