SK-II is truly one of the brands I am very much in love with, and that's saying a lot from a beauty blogger who is always reviewing the latest in beauty products.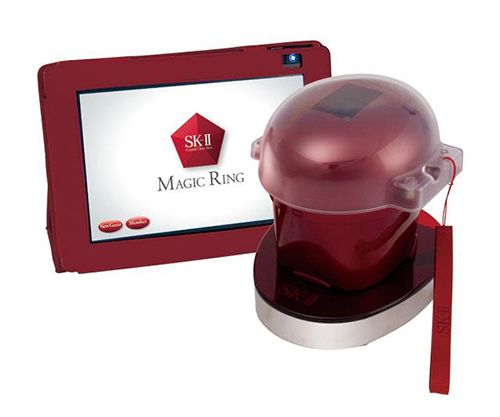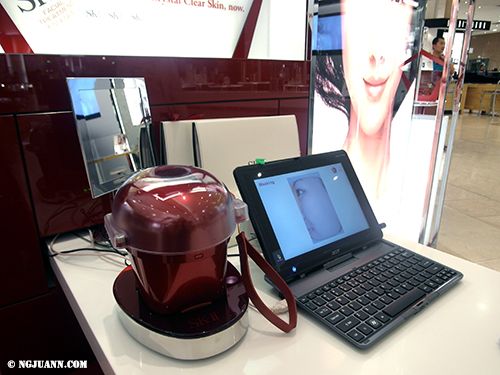 SK-II knows that the skin is unique to an individual. That is they have developed the Magic Ring that uses in-depth facial imaging and digital analysis where skin is graded and given an instant numerical score. This skin score is derived from quantifying and qualifying baseline conditions in the five dimensions of crystal clear skin.
These Magic Ring devices are available at all SK-II counters in Singapore. It measures the real age & condition of your skin compared to your peers. The statistics are not based on caucasians or women of all ages. They are all based on asian women, of your exact age group.
I got myself tested one day. Took about 10 mins only! And don't fret if you have makeup on. The device is smart enough to detect that too!
Here are my results: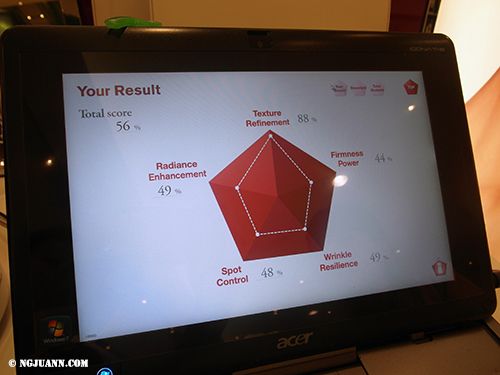 See the hexagon there? That's the 5 ways of measuring the dimensions of crystal clear skin. I aim to have the white dotted lines to be as close to the edges as possible because that indicates a more ideal skin condition.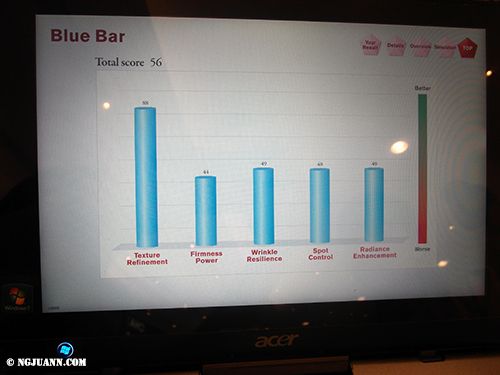 Texture Refinement: 88%, 18 years old in terms of Hydration & 25 years old in terms of Pores
(This is amazing! If you read my post on this same test about a year ago when I started using SK-II Stempower, my skin's age was 38 years old!)
Firmness Power: 44%, 28 years old
Wrinkle Resilience: 49% radiant, 28 years old
Spot Control: 48%, 28 years old
Radiance Enhancement: 49% radiant, 28 years old
I totally need to up this or I'll keep looking dull as I always do.
Average score is a mere 56% to crystal clear skin! *GASP*
Here are the products recommended to help with my skin:
With over 200 global awards for its whitening series, SK-II continues to push the envelope in whitening innovations with the newly enhanced Cellumination regimen. I am starting on 3 awesome new products:
My SK-II regime will now be:
♥ Clear Lotion
♥ Facial Treatment Essence
♥ Cellumination Mask-In Lotion
♥ Cellumination Essence Ex
♥ Stempower
♥ Cellumination Day Surge UV (for day)
I can't wait to go back in a couple of weeks to see how my skin has improved! Best thing is, as long as you go back to the same SK-II counter that you went to test your skin before, they'll have all your details in their database! :)
**
SK-II Singapore is on Facebook if you're interested! :)