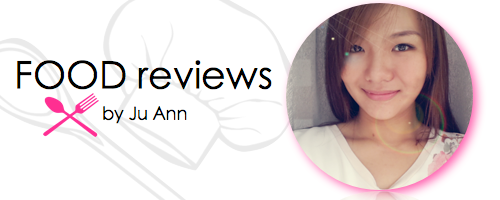 I must share with you what is now my favourite restaurant to go to now! 🙂 Located at the newly opened wing of Plaza Singapura, Atrium @ Orchard, Hoshino Coffee is a new Japanese cafe that just opened not too long ago! There are always long queues for this but this is one queue worth waiting for!
(There's another Jap restro here called Hifumi. The queues are just as long. Check out my review here)
There were 4 of us so we could pretty much order a lot to share! Excitedness!
Mom has never tried Squid Ink Pasta before so we ordered that for her. I didn't expect much from this dish nor was I intending to try it but it turned out to be really good too!! I even had seconds to a dish I never fancied in my life! Should you try this? I say YES!!
Hoshino Spaghetti ($14.00) came highly recommended by the waitor. I was quite reluctant to order this cos usually I'm not a fan of japanese pasta, and besides we already have the Squid Ink pasta but the menu was honestly quite limited. So Hoshino Spaghetti it was but I have to tell you, it did not disappoint at all. In fact, I would totally come back just to eat this!! It's aglio olio style, not too oily and it's very tasty.
Fuwa-Fuwa Hoshino Souffle ($15.80) was a surprise in so many aspects. The floaty light eggy top shivered as it was served. We dug in and found tomato sauce baked rice. It was light and fluffy the top, and warm and savory inside. A formidable combination. Very yummy.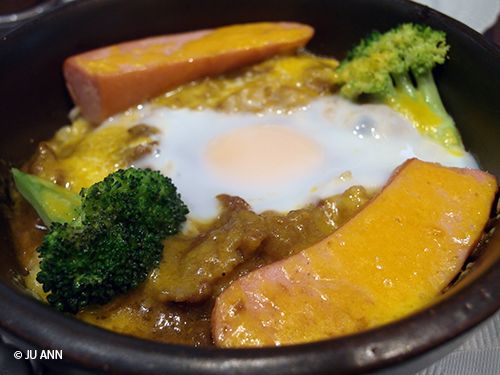 Hoshino Pot Baked Curry Rice was also very yummy!! The curry wasn't over powering or too thick. It was just right. And we didn't mix in the egg till we finished almost half which was a mistake! Adding the egg in was like the bestest thing ever!! My only complaint with this would be that the serving size is a little too small for one to be full.
If you ordered the Pancake Souffle Style with Matcha and Ogura Bean Paste ($13.50), you will have to wait 15 mins as they are freshly made on the spot – accordingly to them. Since the waiter told us this, we ordered together with our food. The bad thing is, this dish came when we were still eating and the Matcha ice cream melted quickly, making the pancake a little soggy. 🙁 This dish is however, something I would likely order again just to try it when it's served fresh. 🙂 A little pricey too if you ask me.
We also tried the Hoshino blended coffee. It is nice if you love the strong flavour of coffee. I had fun adding milk and sugar to my coffee. The milk came in the tiniest little container, oh so cute!
Must tries: Squid Ink Pasta, Hoshino Spaghetti, Fuwa Fuwa, & Pancake Souffle Style with Matcha and Ogura Bean Paste
I really hardly rave about food this way unless it's very good and a place I intend to return. So this is one of them. 🙂 I hope the crowd dies down though!
**
Hoshino Coffee
68 Orchard Road #03-84 Plaza Singapura (Douby Gaut MRT), Tel:+65 6338 3277
Opening Hours: 11:30am – 10:00pm Daily