I do lots of stuff to my hair every month and I love it. I love going to my stylist, Caely, not knowing what I'm going to walk out looking like next. Since I do so much chemical treatments to my hair, I do have to take extra special care to my hair on a day-to-day basis.
Caely recommends I try the Shu Uemura Art Of Haircare haircare products – shampoo, conditioner and the protective hair oil. These are highly concentrated products and need only be used once every 2 days (alternating with my usual drugstore haircare products).
I recently enjoyed the Shu Uemura Master Treatment at Shunji Matsuo and it made my hair pretty soft, so I thought these home care products should be quite good too.
There are quite a few ranges to the haircare products but Caely recommended I use the following: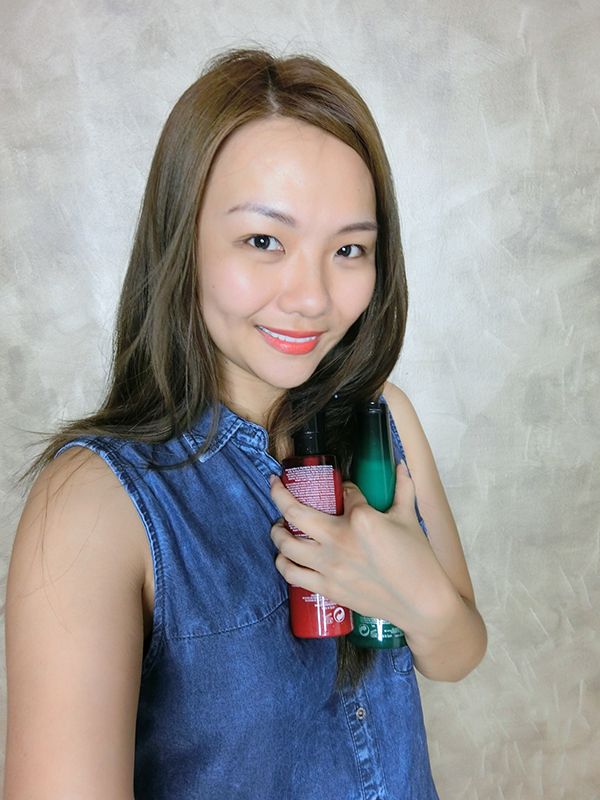 1) Shu Uemura Extreme Restoration Shampoo
This is from the ULTIMATE REMEDY range, containing lotus infusion that is highly concentrated in lipids for intense nourishment to ultra damaged hair. Together with ceramide, it repairs and reconstructs the hair.
2) Shu Uemura Colour Lustre Brilliant Glaze Conditioner
For colour-treated hair like mine, the main ingredient of this it the musk rose oil that is rich in fatty acids and vitamin A. This helps to restore vibrancy & shine.
3) Shu Uemura Essence Absolute Nourishing Protective Oil
I will then end off by applying 2 pumps of this oil. The velvety oil intensely nourishes and protects the hair, giving it high shine and UV protection. It's like a leave-in hair elixir for hair life and lustre!
You can get these from Shunji Matsuo 313@Somerset. Do ask Caely to recommend what's suitable for your hair! :)
**
Shunji Matsuo Hair Salon @ 313 Somerset
313@Somerset, #03-26, just beside Uniqlo
Open from 10.30am – 10pm daily
Call for appointments at 62380226 / 62380227 (they're very packed on Saturdays!)
Specially for my readers: Get 10% off all colour, treatment, perm, straightening services at Shunji Matsuo Hair Salon when you quote "Ju Ann Blogger". Haircut excluded! My stylist is Caely (only at 313@Somerset branch), and she's very good at what she does. Just go to her with an open mind and let her tell you what's suitable for you.