Recently there's been a new furniture brand Struöcfurniture called rousing our curiosity and asking people to take part in their "Looks WOW, priced HOW?" contest. They've revealed these 3 furnitures for public guessing!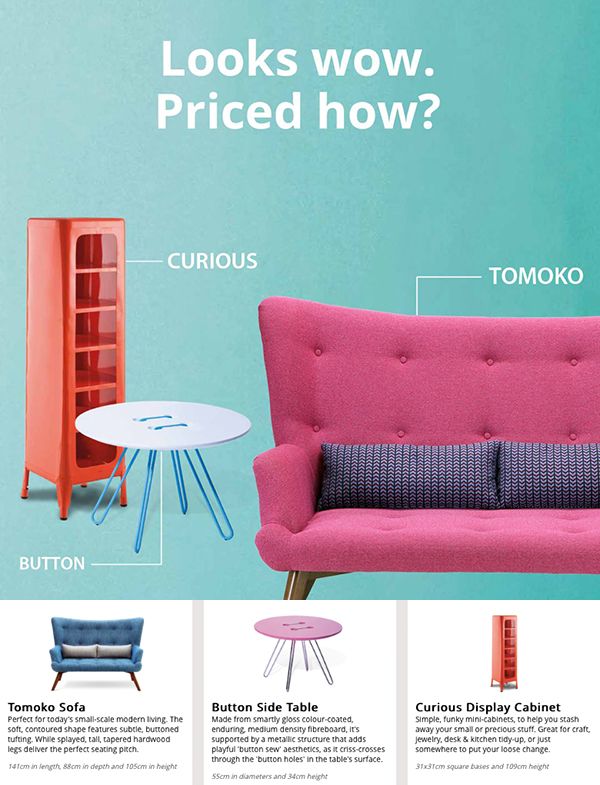 I think the Tomoko Sofa should be able $900, the Button Side Table about $300, and the Curious Display Cabinet about $250.
Updated 11th October: The actual prices are revealed and they are WAY cheaper than I guessed! And here's another shocker – Struöcfurniture is by Courts. Whutttttt???
They've launched 3 core styles of Funk, Urban and Classic that truly define the individuals of our generation. I can't believe how unique and quirky their collection is – so designer!
#1: FUNKY
If you enjoy mixing unexpected pieces to exquisite effect, Funk could be your cup of tea. Conventional knick-knacks meet quirky colours to exude individuality and charisma. Stamp your unique signature over your living space and end up with something truly individual.
• Vintage Eclectic • Modern Eclectic • Bohemian • Pop Art • Mix and Match
View the entire collection here.
#2: CLASSIC
Give your home a nostalgic feel with our classic furniture. Designed to hint at the past or simply destined to stand the test of time, the Classic range will charm both you and your guests. Each piece possesses the quality and aesthetics to become a modern heirloom.
• Traditional • Transnational • Art Deco • Retro • Country • Shabby Chic • Bali • Beach • Cottage • Oriental
View their entire classic collection here.
#3: URBAN
Let the clean lines of Urban home décor de-clutter your living space. Simple lines and angles create a sense of flow, evoking a calming effect to achieve contemporary harmony.
• Industrial • Modern Contemporary • Minimalist
View their entire urban collection here.
Courts' furniture believes that every home should be furnished exactly the way we desire it to be. Whether it's classic mainstays or quirky accent pieces – this is really good taste at great prices! I'm so torn between Funky and Urban!! I love them both!
I'm totally going in stores to check out their new range with over 60 brand new pieces. Stay tuned for more updates on Courts Singapore Facebook Page!