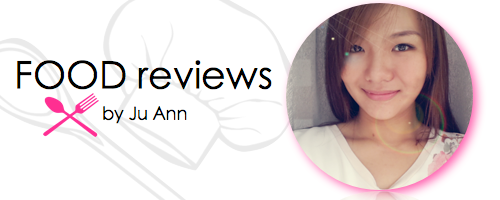 I don't know about you but the last thing I expected from San Francisco was very very good food. Here's what I ate during my trip and what you must try!
Sotto Mare (552 Green Street at the intersection of Columbus Ave & Stockton Ave)
Known for its best Cioppino in San Francisco. Crazily reviewed on Yelp too.
I went and ordered the Cioppino (USD 38 – portion big enough for 2 and it was EASILY the BEST MEAL I had on my entire trip.
It was very very flavourful and came with a lot of assorted seafood!
Cioppino is a seafood stew that's tomato based. It comes with mussels, clams, squids, dungeoness crabs, big and small prawns. There's also bits of penne pasta in the dish as well.
I loved it very very much. The tomato stew was filled with the sweetness of seafood and when consumed with the penne, just made it all the more awesome.
It was like a burst of flavour once you take the first spoonful. All of the seafood were perfectly cooked and very fresh too.
There was complimentary bread and I thoroughly enjoyed dipping the bread in the stew. (I'm salivating as I recall the taste now!)
In fact I love this dish so much, I'm gonne try to search for the recipe and recreate it. :) Will update again if I succeed!
They are closed on Sundays!
Francisca (Pier 45)
Famous for the Dungeoness Crabs, as recommended by my city tour guide. I did not try this though. :)
Boudins (Pier 45 one is bigger but there's also one at Pier 39)
Famous for their sourdough bread. You can see the bakers at work too. I had their chocolate croissant one morning and wasn't overly impressed.
They have free tastings for their sourdough bread. I'm not exactly a fan of it but it's worth a try :)
I also went for a clam chowder in a sourdough bread as well. The clam chowder itself was disappointing. The clams were few and small, and there were a lot of potatoes in there too. After trying Scoma's clam chowder (same price!), this paled in comparison. USD 8. Definitely give this a miss!
Scoma (Pier 43)
Reviews on Yelp say that there's always a long queue and service is bad but I beg to disagree. The service was prompt and polite. Other patrons and myself were all seated almost immediately. I was there at 7pm on a winter Saturday evening.
Clam chowder was damn good. Came with a lot of good sized clams in the soup. I ordered the bowl sized instead of cup sized since the difference was only USD1.
I also had Dungeoness Crab here. This is all for one person and I was quite full at the end of the meal already! Crab is nothing impressive though. It's just plain steamed crab (very meaty though) served with melted butter.
The Codmother of Fish & Chips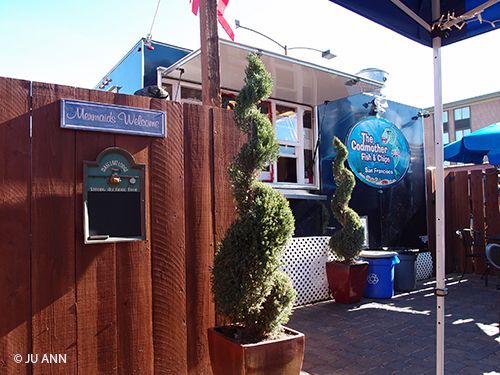 This is not a proper restaurant building. It's a roadside setup facing Walgreens. When you do any google search for "Fish and Chips" in San Francisco, this humble little place comes up tops! I knew I had to give it a try.
The fish was fried fresh upon order. I loved how thick the fish meat was but I didn't like the fried batter around it. It didn't look oily but after a few bites it was a little too much oily. Note I never liked Fish and Chips for the sole reason that it's deep fried and oily. Would I come back for this? Nope. The fries were cut very thickly and I had to put a lot of ketchup to make it tasty. It was otherwise too starchy. One other thing I like was the malt vinegar. Went very well with the dish.
Jacqueline's Cafe – 1454 Grant Ave (near Union Street)
Well known for her souffles. Serves up both savory and sweet souffles. Be prepared for a wait as all souffles are made fresh upon order by Chef Jacqueline herself.
Only opens for dinner from Wed-Sun. Unfortunately I didn't get to try this. Do note that each souffle ranges from USD30 onwards! ;)
House of Nanking (919 Kearny St)
Why anybody want to have chinese food in a western country, I have no idea but if you find yourself with a inkling for chinese food while in San Francisco, try the House of Nanking. I quote my city tour guide that "This is, hands down, the place that serves the best chinese food." I did not have time to try this.
The Cheesecake Factory (Level 8 of Macy's, Union Square)
There is a lot of hype about this place on Yelp. A lot. I decided to give it a try on my last day before leaving San Francisco.
Online reviewers complain about long waiting times and good food. I decided to take away a slice of cheesecake.
They have over 30 varieties of cheesecake flavours – quite a feat to decide which to go for when you have only 1 stomach. I found this blogpost that tells about the blogger's attempt to try all the flavours and review. Reading that helped me make my decision on what to order – the Godiva Chocolate Cheesecake (since I love Chocolate and all).
A little voice in the back of my mind was telling me to go for the Classic Cheesecake but the bad devil told me chocolate is always the way to go.
The devil won. And on the first mouthful it was nice but I also knew it was too much for me to take. It was extremely chocolately and very thick. I could not finish more than half :(
Based on just this small incident, I won't write off The Cheesecake Factory. Maybe some day if I find myself back in San Francisco, I'll try this place again. I'm just not gonne order the Godiva Chocolate Cheesecake!
Trattoria Volare Caffe (561 Columbus Ave)
I also went by Little Italy one of the nights, hungry and undecided what to eat. I decided to just take a chance and follow the couple in front of me into any restuarant they choose to go into and I found myself in Trattoria Volare Caffe! :)
It's a small cozy place that serves up italian food (well of course, since I was in Little Italty). I ordered a Salmon Fettuccine which simple and nice!
More reviews on Trattoria Volare on Yelp.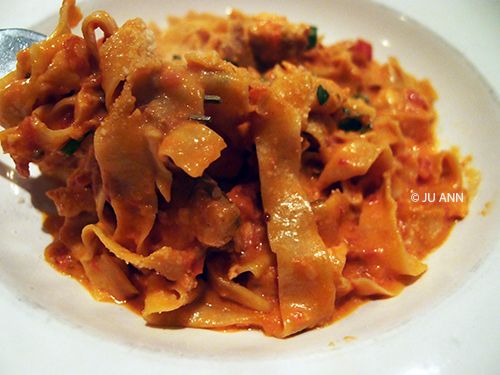 Hope you enjoyed this post! If you find it useful, do give me a comment here or on my Facebook Page :) Check out my other entries on my US Trip here.