I've tried quite a fair bit of collagen drinks. From the powdered type to the tablet type, and of course the liquid type. The powdered types are the ones which don't sit well with me the most. I've always been wary of the liquid types because I usually don't like drinking strongly coloured beverages.
Well, I was invited to experience collagen at its finest – BRAND'S® InnerShine® RubyCollagen Essence formula.
What makes BRAND'S® InnerShine® different from the other collagen brands is:
Proprietary beauty formula (RubySignature™) – Combination of micro-collagen peptides & Astaxanthin*
Astaxanthin, one of Mother Nature's most powerful anti-oxidant, is scientifically proven to be 800 times more powerful than CoQ10, 6000 times more than Vitamin C, 500 times more than Vitamin E.
RubySignature™ formula is created with a unique and precious blend of ingredients derived from natural sources. In just 6 weeks*, experience skin rejuvenating power.
Micro-collagen supplies skin with collagen to maintain skin suppleness and elasticity
Astaxanthin protects against collagen degradation to allow for proper skin cell turnover. It also supports healthy cellular metabolism by promoting microcirculation, thereby effectively delivering collagen and other skin nutrients to the skin cells.
Wah read liao very excited!!
BRAND'S® InnerShine® Ruby Collagen Essence comes in 2 forms, the RubyCollagen Essence (link) or the RubyCollagen Essence strip (link).
In a two part post, I will be reviewing both the strip and the essence. For now, let's talk about the essence!
Here's the RubyCollagen Essence in a drinkable format. I hesitated trying this but I didn't look back after taking my first sip. I usually drink 2 of these per day. 1 in the morning and 1 in the evening.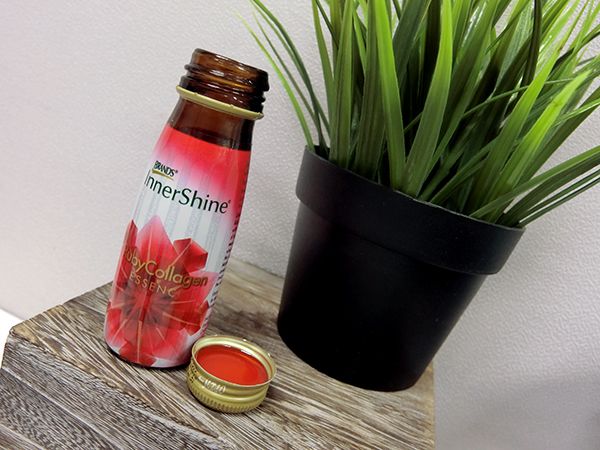 The liquid is pinkish in colour and tastes much like sweet cherry. I love it! Definitely one of the better tasting collagens for sure! So palatable to the taste buds. Be sure to chill it in the fridge before drinking!
I have about 6 bottles and finished them all within 3 days! I don't know whether was it psychological or was it for real, my skin did feel like it was radiant! And this was even though I didn't sleep well at night because Baby Daniel was coughing a lot and I was afraid he might throw up so I only slept lightly.
This is such a great add on to my daily skincare regime, boosting collagen from within. So easy to consume, so portable (I just grab from my fridge and drink while walking to the MRT). These little bottles are such a handy size, I could possibly finish an entire bottle in one gulp if I wanted to.
I don't always have a lot of time to apply my whole range of skincare ever since I became a mom. But knowing that I am taking in nutrients that my skin needs to be young and beautiful, makes me feel better about nights where I just fell asleep without putting on any skincare at all! Definitely putting this on my grocery shopping list!
Busy people like me, you're going to appreciate this handy bottled collagen goodness. :)
**
Buy Now on e-store or find out more info on RC on e-store.
BRAND'S® Singapore Website
BRAND'S® InnerShine Singapore FB
*Yamashita, E. (2006) The effects of a dietary supplement containing Astaxanthin on skin condition. Carotenoid Science 10:91-95. Base on regular consumption of 2 bottles daily.