If you haven't heard of sOmang, you'll want to know that they are a Popular Beauty and Cosmetics brand from Korea! Recently, they brought in a new brand called ONL (April 2013) – ONL means TODAY (in korean).
Anywayyyy the STAR product that I am superrr excited about it their ONL by sOmang Oceaniq 3D Anti-Wrinkle Total Solution CC Cream SPF 30/PA++ (S$69.90)!
Yes, it's a CC Cream, the successor of BB creams, featuring better coverage, blending and treatment of uneven skin tones.
Check it out here: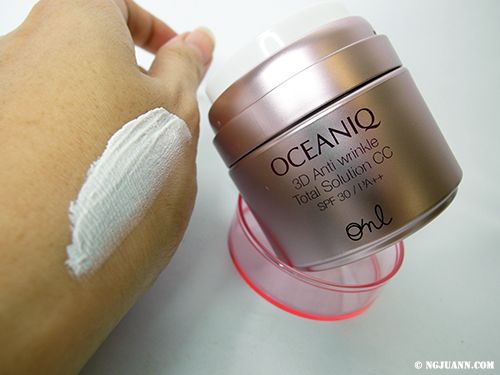 I loveeee the packaging. It's a press & dispense mechanism which keeps the product clean and hygienic. When the CC cream came out, I was kind surprised how white it was. I started blending it.
My my!! Check out the colour changing! I usually review a product without first reading it's benefits and I was totally caught off guard for this. How interesting. More blending needed!
Now time for the test on my face! :)
And ta-dah!!! The end result is perfect.
Things to notice:
♥ Skin tone evened out (see the slight redness from my veins) and totally matched my skin colour
♥ Pores are visibly smaller
♥ The end result is very matt, which means no need for any more loose powder!
♥ Complexion is definitely a lot more radiant.
And the great news here is, sOmang is currently giving away a 5-Day sample of this CC Cream on their facebook page! Check it out here. :)
Product details:
It is a 5-in-1 skin care solution where it acts as a primer and foundation, provides UV protection with SPF 30/PA++, wrinkles repair and whitening. Its colour-changing blending technique will match your skin tone for an everyday natural look!
This product is made from marine components with regenerative properties such as:
Deep sea water—Low temperature water from over 200 m water depth, rich in natural minerals including magnesium, calcium, and sodium as well as nutrients for excellent antioxidation and regeneration of skin in addition to moisturizing.
Four seaweeds complex from Jeju Sea—Staghorn: moisturizes, and is an antibiotic, anti-inflammatory product that protects skin from heat aging. Fusiformis enhances elasticity, whitens, inhibits the oxidation, and brightens skin tone. Sweet laver inhibits oxidation, calms, and whitens. Sea mustard helps to detox, antiwrinkle, rich in chlorophyll and vitamin A, and skin regeneration
Fermented fish collagen—Easily absorbed in the skin for enhanced elasticity – Compared to other animal collagen, it is four times richer in serine for antiwrinkle effect – Rich in proline with excellent moisturizing power
Oceaniq 3d Anti-Wrinkle Total solution CC cream does not contain harmful additives that are damaging to our skin—No mineral oil, no benzophenone, no animal ingredients, no BHT and no Talc. ♥♥ I will totally buy this!! :)
**
Also introducing another brand from sOmang – Off The Face. This is GREAT for people who wish to minimise pores on their face!
Check out their whole range:
Off The Face Pore Tightening White Clay Foam is a gentle cleanser that effectively remove impurities and blackheads. It's Amazon white clay nature will absorbs excess sebum and tightens pores.
It has a soft texture and foams easily.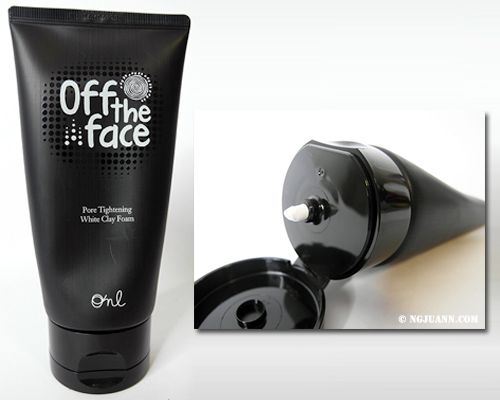 My skin felt a little tight after using it so I quickly proceeded to the next masking step!
I love clay masks! :) Here's one from Off The Face. Off The Face Pore Tightening White Clay Mask absorbs oil, dirt and toxins that clog pores on your skin. It also helps in minimizing the appearance of enlarged pores. Leaving your skin rejuvenated and revitalized.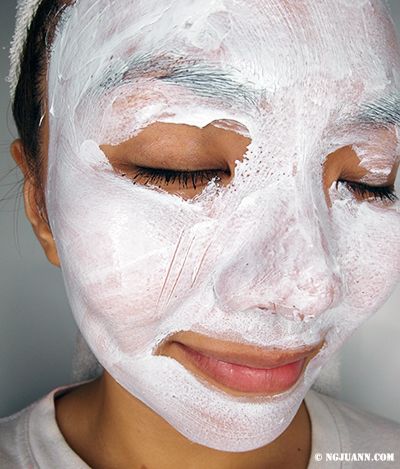 I love its texture. Very smooth. Went on without fuss. You can also see from the pic that I got overly excited with the product and spread it on my eyelids by accident too. Haha!
Next up is the Off The Face Pore Tightening Oil Heating Gel is a heating gel that opens pores with warm heat, melts blackheads, and absorbs waste and sebum in pores. Can be used on the face but best used for T-zone area.
This is a very interesting product. When you apply the gel on your face, it slowly heats up . I used more on my cheeks and nose where my pores were the biggest!
Off The Face Pore Tightening Toner gently cleanses your skin and clears away dead surface skin and refines rough, uneven patches. It penetrates deep into pores so they appear smaller and less visible.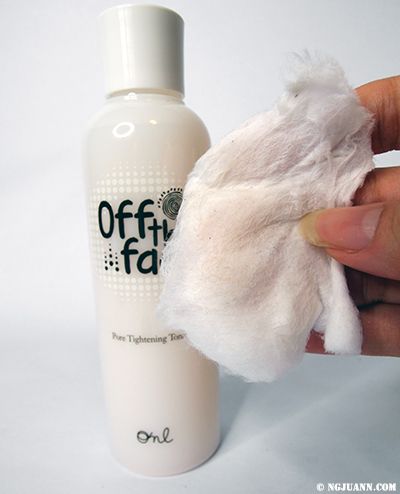 This smells really good. Like some spa product. It also helps to further remove any impurities from my skin!
Off The Face Pore Tightening Serum refines and mattifies your skin, making them look smoother with smaller pores. Recommended to target on the T-zone and oily area, delivering a soft, smooth finish that radiates.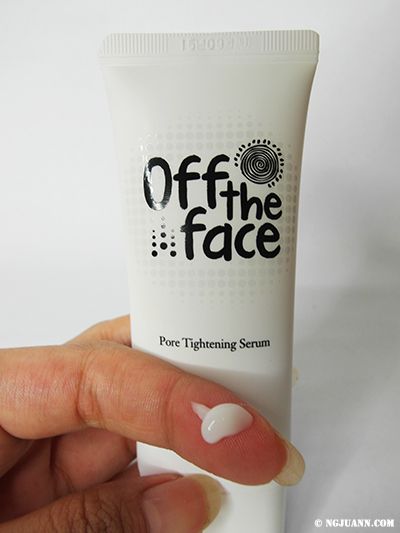 This absorbed really easily. I had to use about 2 times of the amount you see above to cover my whole face! Totally not oily too. All product have a matt finish.
All Off The Face products are retailing @ $39.90 each!
**
SOMANG OUTLETS
SERANGOON NEX #01-77 (Serangoon MRT) 23 Serangoon Central, Singapore 556083
AMK HUB #02-42 (Ang Mo Kio MRT) 53 Ang Mo Kio Avenue 3, Singapore 569933
CAUSEWAY POINT #01-23A (Woodlands MRT) 1 Woodlands Square, Singapore 738099
BEAUTY CREDIT OUTLETS
JURONG POINT #B1-85 (Boon Lay MRT) 63 Jurong West Central 3, Singapore 648331
Join sOmang on their facebook page here!!