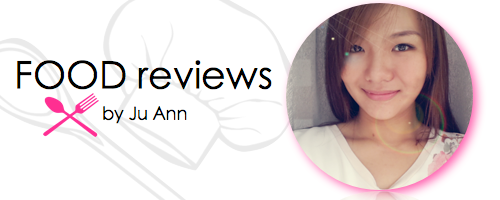 French Food to me is always about expensive prices and while it may be tasty, the portions are usually too small to enjoy enough of it. And it isn't always that readily available everywhere too.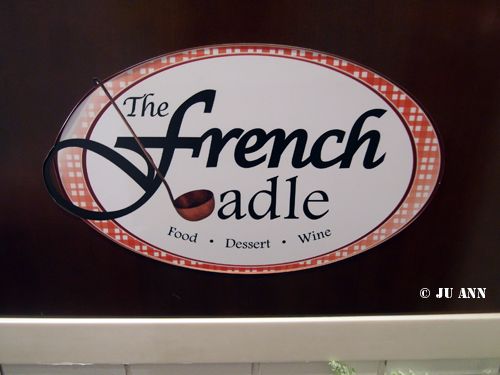 It is with pleasure that I discovered a little French Restaurant that just opened near Holland Village. It's called The French Ladle – according to the owners, they wanted their setup to be a homely place with great food at great prices and portions. Hence, they decided to name themselves after a commonly available kitchen tool, LADLE, which is also synonymous with hearty food portions.
That's a quick preview of how lovely the restaurant's interior was done up. A quick chat with the passionate owners revealed that most of the decor was DIY! Omg! It looks so professionally done.
I went down to try out their dinner menu one weekday evening and here's what I had!
SALAD – Salad de Mesclun (S$6.90)

Young salad, with cherry tomatoes, red onion, olives, and homemade balsamic vinaigrette.
This was very refreshing. I loved the homemade sauce, it had a great tangy taste to it.
FRIES – Truffle Fries (S$9.90)

Truffle fries served with Chef's homemade sauce
The portion served was good enough for two. I am not a big fan of truffle fries cos it's usually too oily for me. This was ok-oily but I love the homemade sauce which was really special. I can't really tell what's in there but that sauce made this dish more attractive.
SOUP – Cream of Celeriac Soup (S$7.90)
This portion was small but on hindsight, if I had any more of that soup, I wouldn't have had space for the awesome upcoming mains. I never tried Celeriac soup before and this was exquisite. For private parties, the chef dropped a few drops of truffle oil in there which made this soup all the more awesome!!
MASHED POTATO – Puree de Pomme De Terre (S$7.90)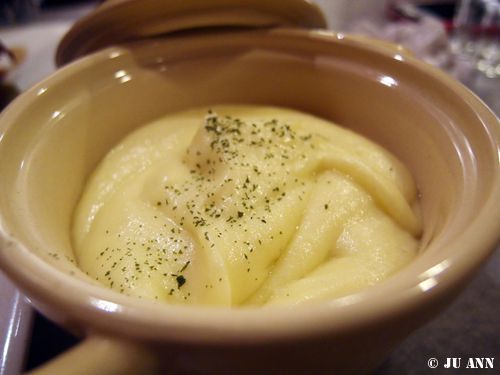 Chef's signature creamy mash potato
This was very smooth and very creamy. If you're a lover of mashed potatoes, this is a must try.
SNAILS – Escargot Bourguignon (S$10.90)

Half dozen gratinated escargots in garlic butter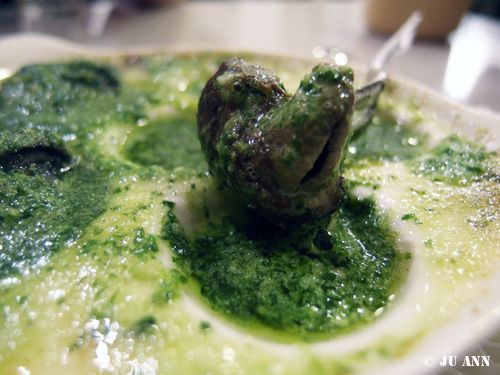 I don't eat snails. I have this creepy fear of them. According to Carrie who was happily devouring all of them, she said they tasted like prawns. LOL. Rachie said it tastes like seafood. Well, I can't be a judge of this but you can check out their blog for their review of it.
NOW, TIME FOR THE MAINS!!
RISOTTO – Risotto de Champignon (S$19.90)

Wild mushroom risotto, truffle scent, with salad and parmesan foam
Omg this was good and oh-so-filling. I loved the strong taste of mushrooms in this one. A must-try!
Cripsy Duck Leg – Confit de Canard (S$21.90)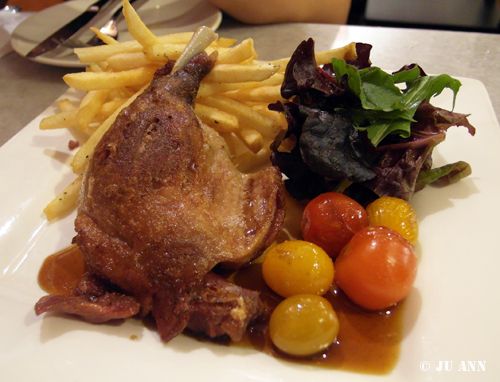 Cripsy duck leg with fries and salad, homemade cherry tomatoes sauce
The duck leg could do with a more cripsy top layer but the inside was very good. It was tender and not at all hard like how some duck dishes could be.
Fish – Catch of the day (S$25.90)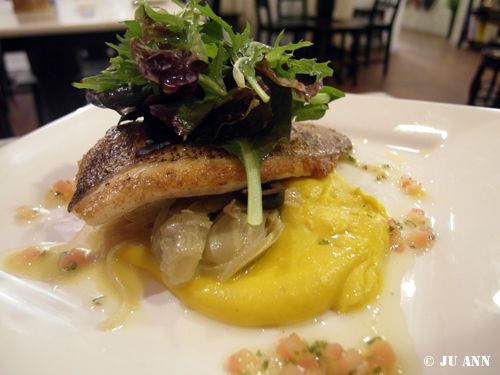 Pan-fried red snapper with artichoke barigoule and sauce vierge
The sauce was sooooo good. The snapper had a good texture (fresh!) to it and I absolutely loved the artichokes – so soft and tasty! I am salivating as I type this!!
PORK BELLY – Confit de Porc (S$21.90)

Slow-cooked pork belly wrapped with potato, served with lentils, baby potatoes, and homemade cherry tomatoes sauce.
Did I leave the BEST for last? YESH I DID! This is my absolute favourite. A must must try and absolutely worth a second trip back for. The pork belly was very very soft and taste. The portion was huge! Super worth it! It was not at all fatty as how some pork bellies can be. The chef took like 6 hours to prepare this dish to ensure it's tender and well cooked inside out. The cherry tomatoes on the sides were very sweet too.
I know, you think this would end here but no! We had dessert too!
FONDANT – Fondant au Chocolat (S$8.90)

Warm chocolate lava cake with vanilla ice cream
An absolute must try. The vanilla ice cream was bleah and very normal but the fondant, omg the fondant. Check out the above picture with the lava all spilling out. I'll be back for more of this!
**
The Fench Ladle
Address: 2 Pandan Valley Road, #01-206, Block 2.
Inside Pandan Valley Condomiunium
(Nearest MRT: Holland Village and Clementi)
Contact: +65 64677505
DRIVING:
Along Holland road, continue on to Ulu Pandan road. Turn left into Pandan Valley Condominium.
Free parking available.
By MRT/BUS:
From Holland Village MRT station, walk 172m to Bus Stop No 11261, along Holland Road.
Board Bus 7, 61, 75, 165. Alight at Pandan Valley Condominium, Ulu Pandan Road, 5 stops later.
The French Ladle is also on Facebook! :)