Looks like Enavose has knocked on my doors again with another interesting product. The Enavose Cellogist Neck Lift Cream!
Winner of the Cozycot Holy Grail Beauty Awards 2011, this product is not to be missed.
As we grow older, the loss of collagen and elasticity make all your skin, not just your face, more prone to wrinkles, sagging, and uneven coloration as you age. In fact, the skin on the neck is even thinner than on the face, making it even more vulnerable to fine lines and sun damage!
So really, some love for the neck as we age is definitely important. A neck firming cream does much more for the fragile skin of the neck than an ordinary moisturiser will do. So even those it may be troublesome to buy another product just for the neck, it's worth all that trouble. Neck firming products are specially designed to restore tautness and elasticity to the skin, like this one by Enavose.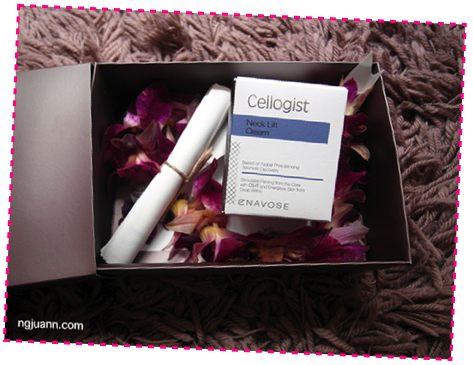 So don't hesitate to give those areas a little extra pampering. I did and here's what I think of the product:
❥ Like the Black Tea Quench Mask which I love alot, the Cellogist Neck Lift Cream is encased in a jar with an airless mechanism so all you need to do is just press the top of it and the mask will be dispensed! Hello! Big fan of this here!!
Also, every pump is carefully designed to dispense the recommended dosage to use each time too! Enavose really takes pride in details: safe ingredients, effective products and thoughtful packaging.
❥ This hydrates my neck area really well. I massaged it for like a min and my skin did feel a little firmer. I can't really comment whether it makes a super big difference cos I can't really tell (and maybe I haven't used it long enough).
❥ I'm not the most hardworking person in the world and massaging the product in is quite a lot of work…. so I do it once every 2 days instead.
❥ At S$99.50, it's a little pricey but they are having a promotion now at S$69! And with every Cellogist Neck Lift Cream purchased, get 20% off all regular-merchandise from the Cellogist range here. I reviewed the Cellogist Youth Guard Cream some time back, check it out here if you're interested.
Remember dear readers, the neck area is the first to show the signs of aging! So take good care of the skin on your neck!
For more information on the Cellogist Neck Lift Cream, click here.
**
ENAVOSE RETAIL POINTS
Online Store Available 24/7 with FREE SHIPPING ISLANDWIDE
(till Sunday 4 March, 2012)
www.enavose.com
Concept Store: Suntec City Mall, Tower 3, #02-079/081
Beauty Counter: Tangs, VivoCity Beauty Hall