Symmetry is my new favourite haunt for some good brunch. It's located near Bugis Junction, where I frequent every Saturday with Baby Daniel for our chiropractic sessions.
One Saturday, we were hungry and craving for some brunch and thanks to Google, I found Symmetry located just nearby where we were so we decided to pop over.
Symmetry:
Café by day, restaurant bar by night, Symmetry is nestled in a serene spot within Jalan Kubor. Taking inspiration from both the Australian casual dining culture and French cuisine, Symmetry presents a unique dining experience with an emphasis on sharing. 
It didn't take long for the husband and I to decide what we wanted. We passed by some other diners and saw the large portions they were served and the very delicious looking food. Here's what we ordered: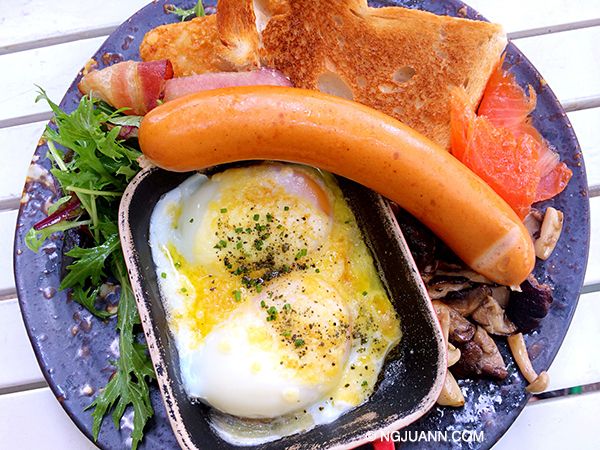 I am guilty of ordering the worst possible thing on every menu. I don't know why. I decided not to make the decision and left it to luck. This time around, I simply decided by ordering whatever the other person at the next table had. :P Good choice neighbour!
The BIG BREAKFAST (S$24) – 2 eggs of your choir (I ordered them poached), maple glazed bacon, chicken cheese sausage, hash potato, mushroom, tomato, mesclun, jam and toast. 
This is a must-order. It was simply a luxury eating this! The toast was well toasted with a nice crisp to it, the poached eggs were amazing, and every bite of the sausage was nice and juicy. It was totally satisfying to have this entire plate to myself!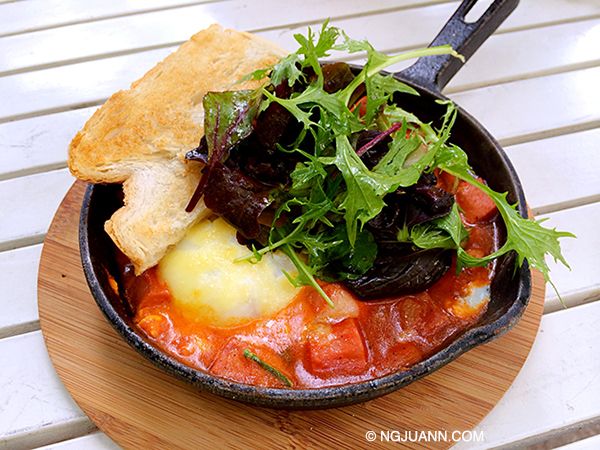 Symmetry Eggs Sur Le Flat (S$22) – Piquillo puree, paprika, pork sausage, garlic confit, brioche, creamed spinach, cheese, basil.
Peter ordered this. Bite sized pieces of bread went very well with the delicious tomato stew and runny eggs. The pork sausages were nicely cut and buried in the tomato stew base. I really love how this dish all came together but the taste can be a little monotonous, because of the overpowering taste of tomatoes. I wouldn't mind eating this again but on my next trip back, I would definitely be trying other things on the menu instead!
Waffle ($14) – Mix berry compote, peanut butter, chocolate hazelnut, maple syrup, chantilly cream, blueberries ice cream.
And of course, brunch ended on a sweet note with an order of Symmetry's waffles. The waffle was very good. It was crispy on the outside and fluffy on the inside. I really do hate soggy waffles and this wasn't soggy at all. Other than that, I do't think I would order this again because I hate peanut butter, the blueberries ice cream, the chantilly cream and the mix berry compote. It's just me though. I prefer good ol waffle with a generous scoop of chocolate ice cream. I wish Symmetry would allow us a choice of toppings!
So happy to have one a very good alternative to our usual brunch at Wild Honey!
**
Symmetry
9 Jalan Kubor #01-01 (opposite Santa Grand Hotel)
Tel: +65 62919 901
Tue to Thu: 11am – 11pm
Fri & Sat: 11am – 12 midnight
Sun: 11am – 7pm