No, I'm not talking about paint-paint.
BLACK PAINT® is an organic skincare brand established in Kyoto 15 years ago by Myyuki Co.Ltd. Since ancient times, plant oil treatments have been taught to be a secret to beautiful skin. Based on this concept, BLACK PAINT® skincare products are made from natural, organic materials which are blended from more than 100 types of plant oils, more than 50 types of essential oils, Kishu Bichotan Charcoal that suitable for various skin and body parts. BLACK PAINT® soaps were sold more than one million in Japan in year 2012.
Look at BLACK PAINT's STAR Product:
Yes, this is soap. BLACK PAINT soap has won the Grand Gold Medal of Monde Selection Award Winner (a globally-renowned award run by International Institute for Quality Selections, Belgium, that evaluate quality of each product and grant them quality label) for consecutively 5 years since 2009 under the category of Cosmetics & Toiletries in Japan.
BLACK PAINT® face soap (S$49.90, 120 g) is a gentle pore cleansing hand-made face soap with Kishu Bichotan Charcoal (White Charcoal) clean pores and removes oil and dirt thoroughly but gently without stripping away skin's essential moisture, leaving skin fresh and silky smooth.
I'm excited to try this!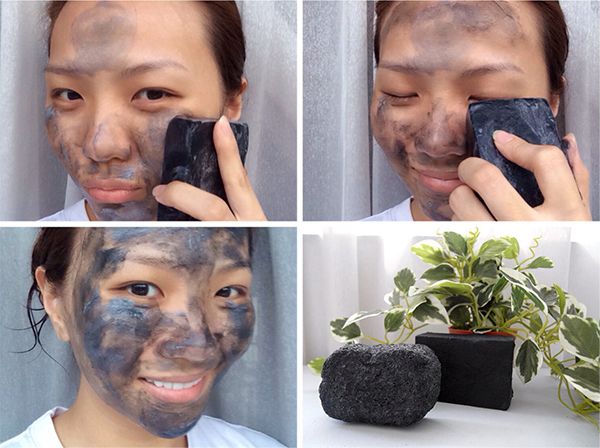 So cool right!! My helper saw me using this and asked what is it! :) When applied on my skin, the "foam" is really black in colour! So just soak the soap in water and apply directly on your face. I love how moisturised this soap makes my face feel thereafter. No tightness at all and my face feels very clean. There is a lot to love about this product. :)
The other products in the Black Paint range include:
Best Water (S$59.90, 100 ml) is a pore-minimizing toner that contains 30 types of minerals that deeply penetrates the skin (epidermis) to nourish and help restore skin's natural barrier to prevent moisture loss.
• Deeply nourishes skin from the 30 types of natural minerals such as Potassium and Magnesium leaving skin feeling significantly soft and supple
• Instantly hydrates skin and helps preserve its moisture balance
• Helps improve skin texture and minimizes pores after cleansing
• No alcohol, fragrances and artificial colorants
• Low irritation
Review: I use this with the provided pads that comes with this product to help the absorption into my skin. My skin feels soft and clean after this.
Oil Water Rose (S$49.90, 100ml) is a dual-layer emulsion that regenerates, protects, soothes, and soften the skin keeping skin soft, supple, radiant and young-looking, while a delicious rose scent uplifts the spirit.
• Top layer of organic plant oils moisturize and soften skin
• Bottom layer of Damask Rose Water provides extra vitamins, minerals and antioxidants to skin
• Rose essential oil improves fine lines, wrinkles and other visible signs of aging including pigmentation
• Antioxidant vitamin C which found in rose essential oil helps repair discoloured skin
• Provide anti-inflammatory properties that treat redness & wounds
• No emulsifiers, surfactants or preservatives
• Damask Rose scent provides aromatherapy effects
Review:I have oily skin and am always apprehensive about using any product that has the word oil in it. Before using this product, I have to shake it to mix the liquid & oil layer up. It has a very feminine, rose-like fragrance to it with a gel-like consistency to it that is absorbed easily into the skin.
Water Cream (S$79.90, 50ml) is a water-based moisturizing cream that protects your skin from dryness and maintains moisture all day long. Great as a makeup base.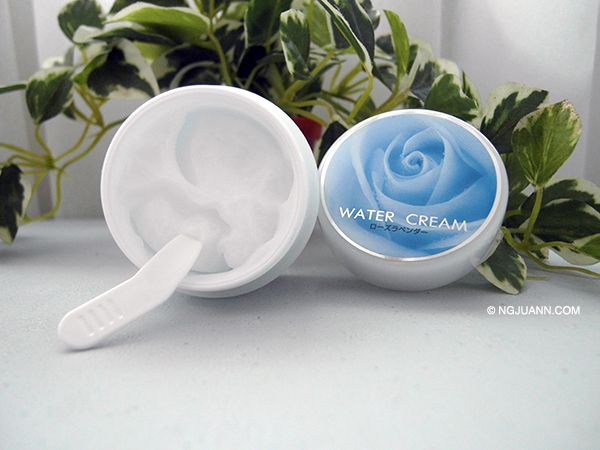 • Contains Morroco's Argan Oil which improves skin metabolism and promotes moisture retention
• The combination of 7 different types of flower oil and polymeric silicon form a protective veil against external environment
• Natural ingredients provides anti-oxidative effects
• Maintain skin moisture and gives makeup long-lasting finish
• No alcohol, fragrances and artificial colorants
• Soothingly scented with Lavender oil
Review: The water cream is another big love! The texture is really what the name says – water cream. It has a very light, velvety texture that is hydrating to the skin and dries off to a smooth texture. Oh but do note, a little goes a long way. If you use too much, you will end up taking a long while to massage it into your skin.
All the mentioned products should not be mixed with other product brands to see its true effectiveness. You should use it continuously for 28 days. There may also be possibilities of breakouts in the first few washes as your skin takes time to get use to this new product and routine.
They are having a promotion at Takashimaya now too! :)
**
Black Paint Singapore
Website | Facebook
BLACK PAINT products can be purchased at Isetan Westgate Mall at Jurong East MRT