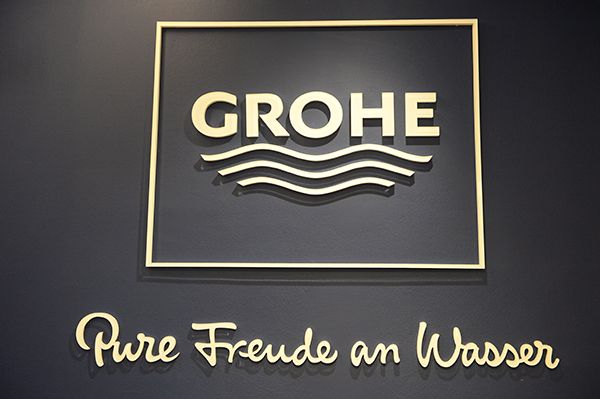 A recent visit to GROHE Live Center at Haw Par Centre took my breath away – not with the beautiful showroom fitted with the latest and most luxurious GROHE products but with how smart they've made our modern day bathrooms and kitchens!
Amidst all the claims from home appliance manufacturers on smart homes/smart appliances, I have kinda totally disregarded that technology can play an important role in our bathrooms and kitchens!
Well, the mountain tortoise that I am finally caught up (with a lot of wow's throughout) and discovered for myself the bathrooms and kitchens of our future through GROHE's 5 new cutting-edge products. Digitising bathrooms and kitchens – that's GROHE's way of the future.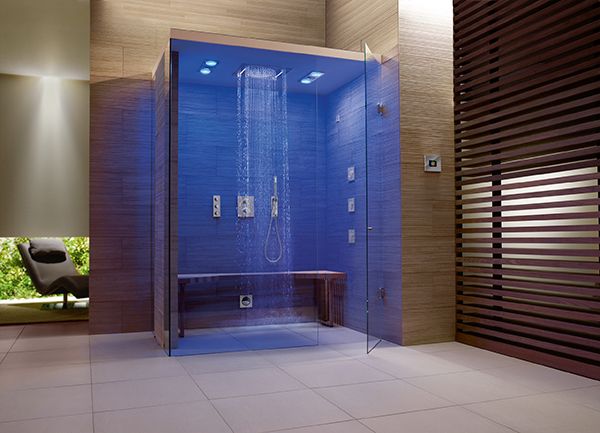 The GROHE Spa® F-digital Deluxe enables users to control a variety of lighting, audio and steam functions for shower time via their iPod (using the GROHE SPA® app).
F-digital Deluxe will fill your shower with coloured light for chromo therapy treatment, with pleasant steam for skin cleansing and completing the sensorial experience with your favourite music. The modules of GROHE SPATM F-digital Deluxe can accommodate the users' personal preferences, representing GROHE's focus on interior design flexibility. A docking station with an Apple iPod Touch 4G connection permits easy control of all module functions through the GROHE SPATM app – lights, music and steam intensity alike.
Talk about a unique shower experience that's unmatched! How luxurious!! To think all I do now for my bath time is jump in, and jump out in 10 mins flat. And GROHE's showers has programmable music, lighting and even steam? Wow…!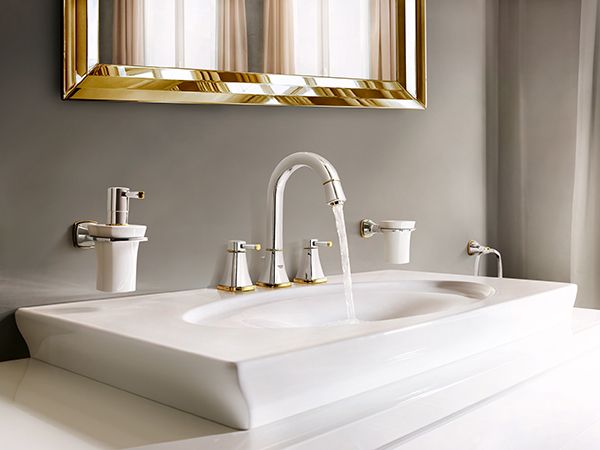 The new GROHE Grandera line of faucets draws inspiration from all over the world. The standout, uniquely-GROHE ʻsquircle' chrome and chrome/gold outlook of its faucets, showers and complete accessories is no coincidence as its designers intended Grandera to be timeless and elegant, like the Eiffel Tower in Paris, Tiffany's of New York—the muses for the range's structure, shape and detailing and colour choices.
Already a mainstay in the bathrooms of many premium hotels around the globe, GROHE Grandera was first unveiled in Asia in October 2013 at the World Architecture Festival held at Marina Bay Sands.
The complete range includes everything from single-lever mixers to classic faucets, from tub mixers to five-hole deck-mounted bathtub combinations and free-standing tub fillers, from head and hand showers to thermostats, and authentic high-end accessories from soap dispensers, beakers to exquisite white porcelain crafted wall lamps. ♥ ♥ ♥
For the next 3 innovations, if you're like me and spend a lot of time in the kitchen, you'll love these next few innovations that'll make kitchen life so much more convenient!
GROHE truly takes convenience to a whole new level with the Minta Touch. A reliable, hygienic, water-saving touch sensitive kitchen faucet, Minta Touch can be operated with just a light tap on its faucet body with the back of a hand or wrist. Thanks to the new EasyTouch technology, both the faucet and kitchen are bound to stay clean and uncontaminated when met with dirty or greasy fingers.
The GROHE Red® presents THE EPITOME of convenience. When you're always time-strapped and lacking in kitchen space in a country like Singapore, wouldn't you appreciate being able to turn on your tap and have boiling hot water come out?!
GROHE Red®, a unique kitchen system capable of taking work off your hands. It is designed to replace kettles and boilers, featuring the luxury of boiling-hot water straight from the faucet. This under-sink boiler comes in two sizes of four and eight litres, with the large being able to tap up to six litres of boiling water or 15 litres of warm water at 50° Celsius. Here, main water is temperature-controlled using the lever handle, as in the case of a single- lever mixer. A separate handle for the boiling water requires a two-step pull-and-twist action and is therefore childproof.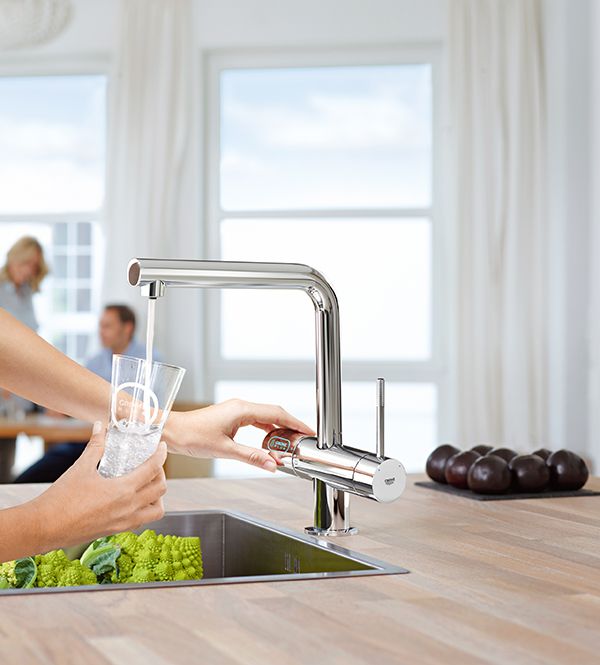 The GROHE Blue® delivered filtered water directly through your tap. No need for any more ugly external filters! It combines outstanding design and innovative technology via a high-performance filter and cooler (both of which sits discreetly under the sink) that remove all materials that could impair taste and smell from normal tap water to deliver a pure taste experience with just a gentle lift of the operating lever.
The event was such an eyeopener to how quickly the bathroom and kitchen market is moving forward in terms of technology. the sanitary fittings in our house need not be basic in function. They too can add value to your life. :) That sounds like a dream home to me.
**
GROHE Contest:
Stand a chance to win a part of your dream bathroom with the GROHE Bathroom Accessories (worth $321). All you have to do is take a picture of your bathroom, instagram it, and hashtag using #thedreambathroom, #grohe and #grohesg, and tell us in 50 words or less what constitutes a dream bathroom to you. Winners will be selected at random by the GROHE. This contest ends on 15 November 2014 at 2359hours.
GROHE is also giving my readers a chance to get a step closer to the dream bathroom with a 20% discount coupon on regular priced GROHE products (with no minimum purchase required). Just show them this blogpost to get the discount. :)
**
About GROHE: GROHE is the world's leading provider of sanitary fittings. They live by one brand promise: "GROHE – Pure Freude an Wasser" which means "Pure Joy of Water" in english. GROHE stands for perfect water "delivery". Their products are developed, designed and produced in Germany, offering uncompromising comfort, fun, and enjoyment of water. An industry pioneer that continues to create highly innovative products that simply wow.