Hello bride-to-be! By now you should have already heard about the $25 per ampoule charge that all makeup artists will charge you for. Let me tell you how you can save that ridiculous charge and buy yourself something nice with the savings you get! :)
I bought 10 Collagen ampoules from Qoo Singapore (previously known as Gmarket). For 10 ampoules, it costed me only $11.60 nett (including shipping).
Here's the SHOP I bought it from. This shop sells many different types of ampoules, suitable for all skin types but most makeup artists will use the collagen ampoule. It is suitable for dehydrated, dull and loose skin. What it does:
– re-hydrates loose skin and enhance skin elasticity
– can be used before makeup for photoshooting session so your makeup lasts longer & adhere to skin
– normally used by makeup artist, brides to be, models etc
Ingredients: Purified Water, Marine Collagen, Beta Glucan, Sodium Hyaluronate (10% Solution), Propylene Glycol, Phenoxyethanol, Hydroxyethylcellulose, Methyldibromo Glutaronitrile, Methylchloroisothiazolinone, Methylisothiazolinone.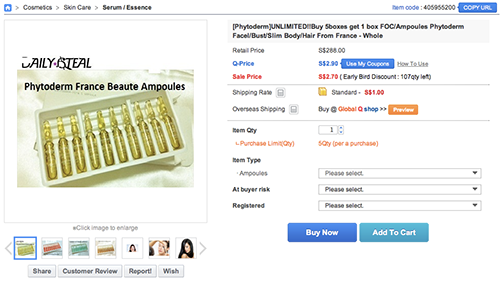 I signed up as a Qoo10 Member and get daily updates on the latest offers. Recently I saw one on ampoules and checked it out right away! This had a early bird discount and costed only $2.70. When you choose the type of ampoule you want, another $7.90 is added on. I chose non-registered mail and the total cost for 10 ampoules is a mere $11.90!!!
That's $1.19 per ampoule instead of $25. T_T
At my last makeup session with my makeup artist, she charged me $25 for my ampoule and another $25 for the one she used on my fiance's face!! HAH. Money SAVED with this great offer on Qoo10!

Be sure to check out the customer reviews. The more reviews the better. On Qoo10, 1K over reviews is considered a lot and can be trusted. Read through the reviews to see the customer satisfaction for a peace of mind.

And check out the Q&A section too! If you have any questions, this is the perfect place to ask it. You can gauge how quick the seller is to respond to questions, how good/bad their customer service is and maybe some of the questions you have are already answered here! :) Time saved!
Go check out all the ampoule sellers on Qoo10! Just search AMPOULE. Have fun!!