The last time I did something to my hair was in February, before I returned to work from my maternity leave. It was definitely super overwhelming to adjust but I did feel better eventually. Work is hectic to say the least and I am glad I managed to squeeze out a few hours lately to get my hair cared for at Shunji Matsuo @313 Somerset.
I wasn't quite sure if I should keep my curls. Was considering rebonding to make it easier to manage. And maybe to do some streaks.
Caely advised that I should keep my curls for a couple more months since I've had straight hair all my life. And that I should not add streaks because hair perming is quite harmful (advised to only do it a maximum of 2 times a year).
What she advised I should do is to colour my entire head of hair with a lovely Coral Brown colour by L'Oreal (yes they now have a L'Oreal colours available now) because my brown was a little faded and uneven.
Here's my new hair colour! :)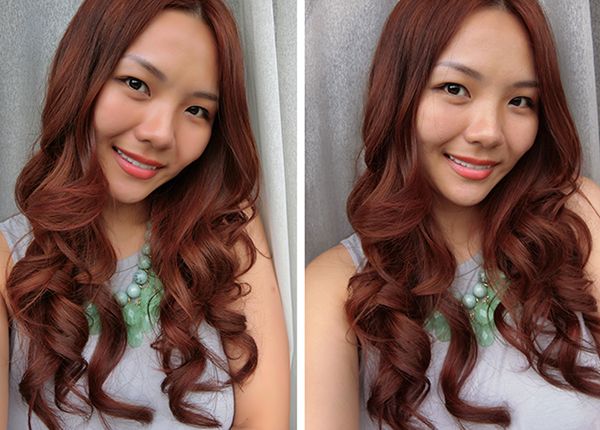 I LOVE IT. I love how vibrant and younger this colour makes me look. She's so good at recommending colours. It is all too easy to get a colour that makes me look old, dull and tired because of my tanned skin.
Oh and my hair was getting super dry and tangled so Caely recommended I try out their new Shiseido Ultimate 5-Step Reconstruction Therapy Treatment that will help to revive my hair by first detoxing (removes calcium ion pile-ups within hair) and treat your hair for airy shiny smoothness.
Here are the products used in this treatment:
To help you understand this treatment a little more, here are the 5 specific steps in this treatment:
#1: Surface Peeling: Removes all obstructive elements attached to the hair surface with a good clean wash.
#2: Deep Detox: Calcium ion pile-ups are eliminated within the hair.
#3: Texture Transformation: Restores silky-smooth hair instantaneously with active restoring agents.
#4: Injection of Repair Agents: Hair is infused with intensive repair agents targeting damaged areas (see video below)
#5: Triple Layer Micro-Coating: One last step is done to protect hair and sustain positive effects.
Here's how the back of my hair looks like:
It is quite a miracle because my hair stayed soft for more than a month after this treatment! Much love to Caely and her team at Shunji Matsuo @ 313 Somerset. I can't wait to go back for another hair update soon!
Do check out all the other hair styles Caely has done for me in the past year! :)
**
Specially for my readers: Get 10% off all color, treatment, perm, straightening services Shunji Matsuo Hair Salon at 313 when you quote "Ju Ann Blogger". Haircut excluded! :) My stylist is Caely, and she's very good at what she does.
Shunji Matsuo Hair Salon @ 313 Somerset
313@Somerset, #03-26, just beside Starbucks and Uniqlo.
Open from 10.30am – 10pm daily
Call for appointments at 62380226 / 62380227 (they're very packed on Saturdays!)
Website | Facebook Page