I recently found a lovely quiet enclave that's nestled along the row of colonial buildings along Scotts Road. Buona Terra is a contemporary, fine-dining Italian restaurant that promises a novel selection of luscious, artfully-prepared cuisine in a dining haven of serenity for any special occasion.
Starting 1 December 2014, they have launched their new lunch service. Priced at $38++ per person, you can expect to indulge in a taste of Northern Italy with the 3 course lunch menu by Chef Denis Lucchi. You can also indulge in a glass of house red or white wine at $16++ per glass.
Inspired by authentic italian family recipes that were handed down through generations, Chef Denis comes up with his very own interpretations of classic dishes.
We started off with their expert wine sommelier who introduced to us the wine we'll be having to accompany our lunch.
And then our food arrived! Course after course of carefully prepared food.
For the first course, we were served a very refreshing appetiser, Carpaccio di Salmone Marinato. Beautifully plated, this dish is a serving of cured salmon carpaccio with salmon roe, orange and capers.
And what italian cuisine would be incomplete without a pasta entrée. My Oxtail Tortelli "Plin" Stile with Veal Jus had me wanting more. Small little mouthfuls of pasta filled with tender oxtail meat… this was really filling!
We also tried another additional entrée, the Sous Vide Lamb Loin with Caponata. The lamb was moist and very flavourful. Tender and succulent, I loved this dish! The Caponata was a mystery at first. It turned out to be a vegetable salad of eggplant, capers and celery in a sweet and sour sauce. Very nice, something I have never tried before. (P.s.: Sorry for the bad photo.. the lighting was quite dim!)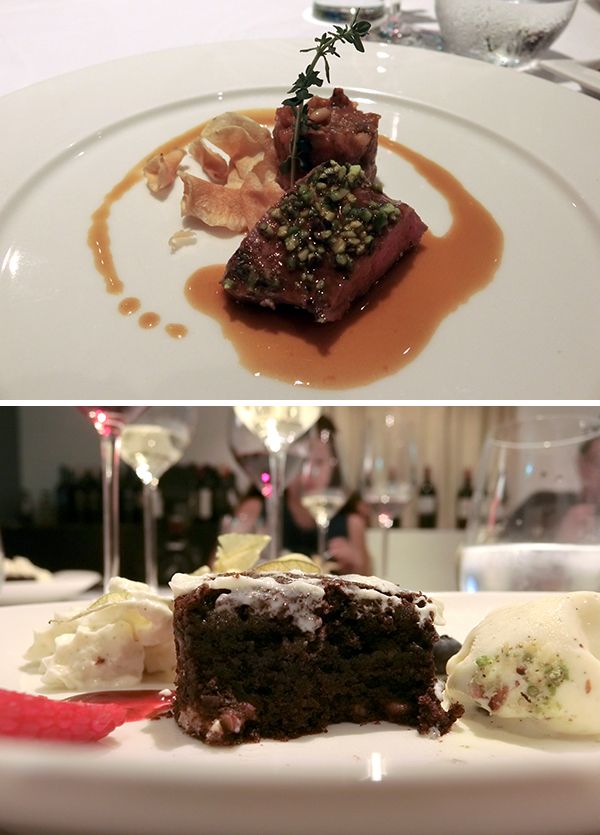 I was really full by now. We had a Chocolate Brownie with vanilla ice cream as a dessert. Nothing special about this.
Chef Denis will showcase a new lunch menu every week. What I had was a tasting I did in early November 2014. :)
**
Buona Terra 
29 Scotts Road
Singapore 228224
Tel: +65 6733 0209
Email: reservation@buonaterra.com.sg
Opening hours:
Lunch: 12 pm to 2.30 pm (Mon-Fri, excluding public holidays)
Dinner: 6.30 pm to 11 pm (Mon-Sat, and public holidays)
Closed on Sun