One of the best parts of going for a facial is actually having that steamer thing steam hot air into my face to open up the pores so that my black and white heads can be easily extracted. Sometimes the black heads on my face is so obvious I start to "spot" a polka dotted patterned nose. Not attractive. Well, check this out.
Behold the Panasonic Facial Ionic Steamer (EH-SA31)!
Your facial session can now be carried out in the very comfort of your own home! Here's how – the Facial Ionic Steamer provides aesthetic salon treatment by producing hot nano-ionic steam which moisturizes and deeply cleanses your skin. Now you can go ahead and make yourself a nice cup of your favourite tea and enjoy the treatment.
NANO-IONIC STEAM means that it reaches the deepest layer of keratin in your skin to achieve deep moisture retention. As compared to normal steam, nanometer-sized steam particles can better penetrate into your skin.
♥ Compact size
♥ Easy one-touch key operation
♥ Deep cleansing
♥ Deep cleansing
It only takes about 1 minute before the steam comes out and you just have to place your face about 10-15 cm away from it. Definitely perfect for doing facial in the comfort of your own home!
Ok let's give it a GOGO!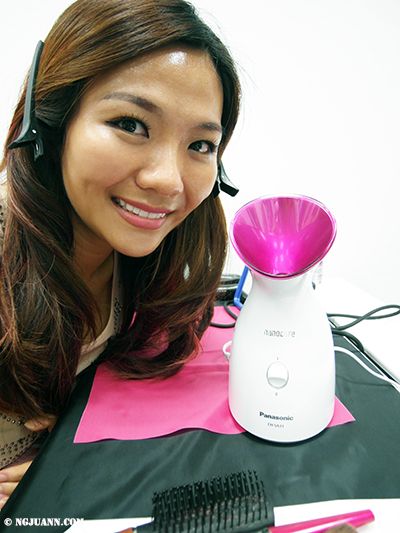 I have makeup on and what I did was to apply some makeup remover on my face. There's a water chamber within the compact steamer and all you have to do is to fill it up with clean water. I put mineral water in there so that it emits more awesome steam! While waiting for it to emit steam, I put on the makeup remover.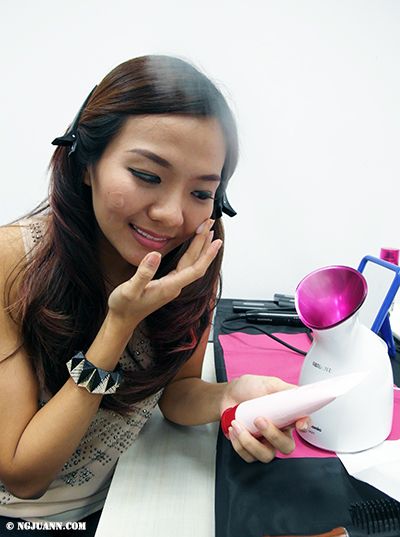 Within 1 min, the steam poofs out! So fast!! :)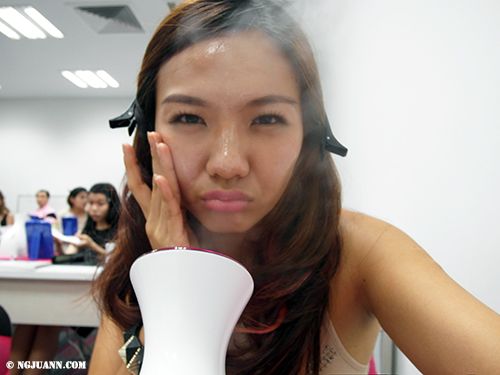 I had a lot of fun. Be sure to keep your face 15-20cm away from the steamer or it might get too hot and you can't breathe! I was quite sure my hair benefited from the steam too. Hahaha!
As the steam goes on, massage the makeup remover over your face gently.
So smooth after 5 mins! :)
After a crazy long day with heavy makeup or outdoors, you know your skin needs some extra love and extra cleaning. The steam helps to 'melt' the make up which makes it easier to remove make up – especially the very thick ones.
After this, you should also do some extraction while the pores are still opened! :) It's mad easy and painless when your pores are open! :) I'm going to do this once a week with the BF. :) He has super a lot of blackheads!! T_T.
**
I love that most of Panasonic Beauty products are all compact and lightweight. I can move it around the house or bring it wherever I want. And hello, hot pink shade for all beauty products FTW.
Where to buy: Best Denki, Harvey Norman, Isetan Scotts, Takashimaya SC & Tangs Orchard.
Detail on the Panasonic Facial Ionic Steamer (EH-SA31) here. Check out Panasonic on their Facebook Page too! :)