Every bride wants a special location for her wedding. If the couple is not restricted by their parents' need to have it in a traditional chinese hotel restaurant, here are some locations that I found to be really practical and interesting! :)
#1: CHIJMES HALL

CHIJMES was used as a Catholic convent for 131 years, with Caldwell House constructed in 1840–1841 and the chapel in 1904. The Gothic chapel, now a multi-purpose hall, is known as CHIJMES Hall and it's a perfect venue for weddings.
Beautiful, grand, romantic… these are words people use to describe a wedding in Chijmes. And it doesn't have to be a religious wedding too. :) Check out Watabe Weddings for information on using this location as a wedding venue. They have lunch (11am to 3pm) or dinner (7pm to 11pm) for your choice.
The only thing is, to make it look super beautiful, I need decorations, I need someone who can design this wedding!
So I went online to search and found this wedding designer. Rosette Design & Co., who has designed some truly lovely Weddings in Chijmes. Here's one I really like: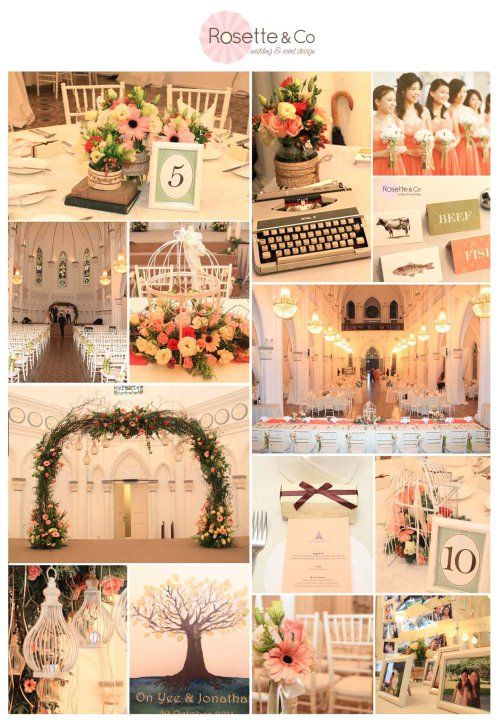 Photo from Rosette Designs & Co website. Check out their other portfolio here.
So pretty right! I guess this is the difference between the complimentary basic design from restaurants and one that has a theme throughout. I have contacted (email: hello@rosettedesigns.com) Rosette Designs & Co, so let's see how my wedding will turn out with them working on it! Super excited!
Min.: 200 people (for dinner)
Max.: 300 people
Menu: Choice of western or chinese
Table Setting: Long or Round tables.
Rough Est for Dinner, Western 4 Course: $1,188++ (as of today)
#2: Skyve Elementary Bistro and Bar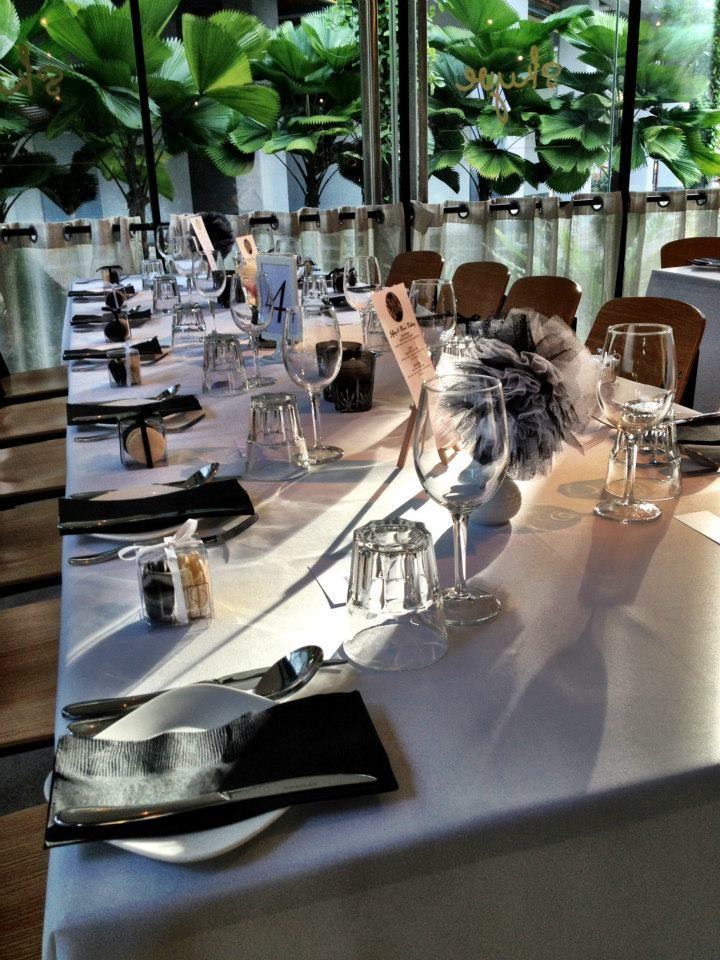 Photo taken from Skyve's Facebook Page.
This is a little tucked away along Bukit Timah road but the food I heard is really good. The environment's cozy as well. But be sure to check on BYOB charges and availability of free flow soft drinks!
Maximum Capacity: 100 people
Menu: Only Western
Table Setting: Long tables
Rough Est for Dinner, $998++ (as of today)
Click here for a virtual tour!
#3: Park Hotel @ Clarke Quay
Lovely place. Get married by the pool at the rooftop of Park Hotel. Sounds like a dream come true. I would have gone for it, except their maximum capacity was only 50 people. :( I didn't explore any further with them. It looks all very pretty though.
Address: 1 Unity St, Singapore 237983
#4: Villa Halia at Singapore Botanic Gardens
Located inside Singapore Botanic Gardens, Villa Halia is surrounded by lush greenery, making this a quiet and peaceful place that's perfect for weddings.
Photo taken from Villa Halia's Facebook Page.
Check out Villa Halia at the Singapore Botanic Gardens. They have quite a nice, cozy environment! This is another awesome venue that I am considering. :)
Address: Villa Halia, 1 Cluny Road, Ginger Garden (enter via Tyersall Avenue), Singapore Botanic Gardens, Singapore 259569
#5: Forlino's at One Fullerton
Forlino serves very good italian food and they are open for weddings too! Check out their website here.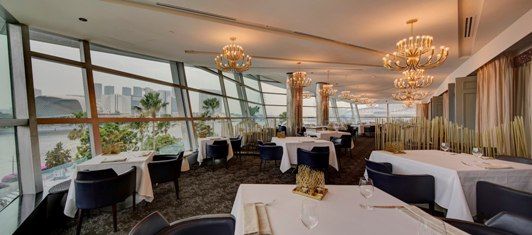 Photo taken from Forlino's Facebook Page.
Check out the view – soooo pretty! :) I'm considering this too.
Address: 1 Fullerton Rd, Singapore 049213
Maximum Capacity Main Dining Room: 90 pax (seated) and 150 pax (standing), Serena: 22 pax, Gaia: 12 pax
**
Well I hope you gained something from this. If you have any other suggestions, do feel free to add on below in the comments! :) The final place we chose for our wedding is none of these 5 though! :) Stay tuned for the one we chose in the end! :)
**
Just found this list of venues you can explore as well:
INDOOR VENUES
Essential Brew
The Flute
Pasta Fresca Da Salvatore
Poppy Flora Studio
Suntec Singapore
Restaurant 1827 Thai
The Arts House
The Blue Ginger Restaurant
National Library Board Singapore
OUTDOOR VENUES
Welcome to Acte d'Amour Pte Ltd
Amara Hotels and Resorts: Amara Singapore Hotel And Amara Sanctuary Resort Sentosa | Locations
Wedding/ROM : Bottle Tree Pte Ltd
One Rochester
COUNTRY CLUBS
Seletar Country Club Website
Republic of Singapore Yacht Club
Public Homepage
Orchid Country Club
MUSEUMS
Asian Civilisations Museum
National Museum of Singapore
SPM

PARKS & GARDENS
Mandai Orchid Garden, Singapore – Home of Rare, Exotic Orchids
Gardenasia
National Parks Singapore – National Parks Singapore
Night Safari Singapore
Singapore Zoo
Jurong Bird Park
POOLSIDE
The Legends- Fort Canning Park
Carlton Singapore
Singapore Marriott Hotel
Sheraton
Four Seasons Hotel
Copthorne Waterfront Hotel
Raffles Marina
PARKROYAL Singapore Hotel
Changi Village Hotel
Swissotel
ON THE WATERS
Celestial Planners
Indo Falcon Shipping
SAF Yacht Club – Where the Sea Adventure Begins!
Long Ranger: Yacht Charters, Singapore (Asia Concierge)
CHINESE RESTAURANTS
Peony Jade Restaurant (This is very good food!)
Teochew City Seafood Restaurant
Tung Lok Group